3
Reality TV News
'Got Talent' star Ashley Elliott: 'I think the xylophone can be cool'
Teenager
Ashley Elliott
has revealed that he wants to make the xylophone cool by performing it on
Britain's Got Talent
.
The
16-year-old teenager's first audition for the judges was one of the highlights of last Saturday's show
, with his percussion skills getting David Walliams out of his seat and dancing behind the judges' desk.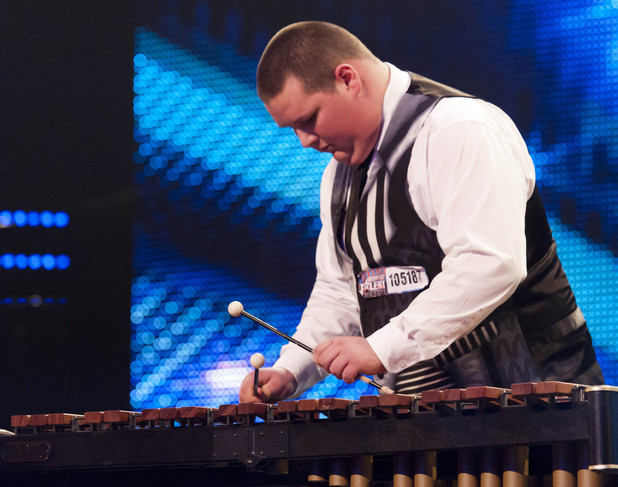 Speaking to
Digital Spy
about his performance, Elliott said: "I've been waiting for my big moment for quite some time. I knew Simon would probably be the toughest judge. I knew what he would be thinking about a guy playing xylophone, so I was ready and braced for that."
Cowell and Alesha Dixon both buzzed Elliott, but the response from the crowd and Walliams ended up swaying Cowell, who consequently sent him through to the second round.
"I think the xylophone can be cool. It's been part of orchestras for a long while and I think people react to orchestras sometimes in a negative way," he said. "I'm trying to bring the xylophone out and have fun with it. I want to show that it is cool.
"I've been playing for about two years. My percussion teacher had a xylophone in his room and he used to let me play on it. Then he eventually sold it and we got it, so I started playing solo and entertaining with it.
"I just got into percussion and it's just something that I like. I know it won't be to everyone's tastes, but I enjoy the sounds and I think when I play it, most people think it's fun and enjoy it too. Whether other people will be inspired and pick up the sticks, I'm not sure."
Speaking about a potential live semi-final routine, he added: "I don't do too many current hits, but I've started slipping some modern hits in with the classical tracks. I have a few tricks and things I can do. They were impressed with how fast I played, so I'm going to try and play it even faster.
"It would mean the world to me if I could win
Got Talent
. It would be a huge help for the family and I'd want to help them out. Hopefully I could buy a car as well first of all."
Britain's Got Talent
airs on Saturdays at 8pm on ITV1.
Photo gallery - BGT episode two:
Be Cool is available on

Watch now