Females fans swooning on Twitter. Dashing good looks. Cheeky grins. Lovely hair. Catchy pop songs. No, we're not talking about One Direction - this is
Britain's Got Talent
indie-pop trio
Loveable Rogues
.
The dashing Sonny Jay, Te Eugene and Eddie Brett stormed last night's semi-final, earned a spot in Saturday's final and are now one of the favourites to walk home with the £500,000 grand prize.
Digital Spy
caught up with the Essex lads this morning to chat about everything from Twitter fans and celeb crushes to "ball bags" and fry-ups.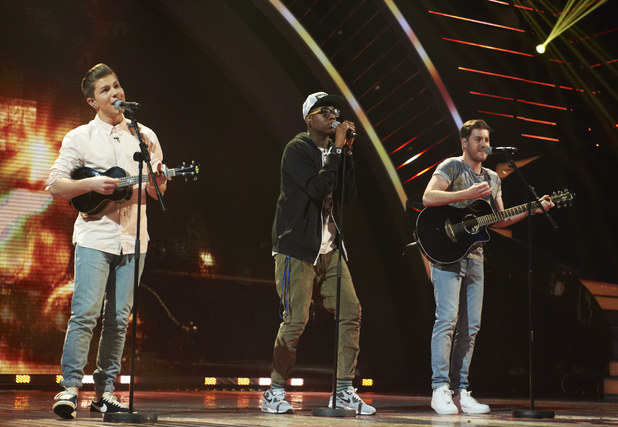 After I last interviewed you guys, I put a sneaky £20 bet on you to make the top three, so don't let me down!Eddie:
"Who else have you put in the top three? You can't just put the pressure on us. Who are the other two?"
Charlotte and Jonathan and, obviously, Pudsey...Te:
"P*ssy? P*ssy! Nobody told me there was p*ssy in this show!"
Pudsey the dog! Have you had time to take in the reaction to your performance on Twitter and online yet?Eddie:
"We came off the show last night and got on our iPads and it's like, 'What the hell!' You just keep scrolling down the tweets and you can't quite take it all in. I think we need to go home, have a nice sleep and then wake up and watch it."
Sonny:
"Our Twitter more than doubled last night. It was an amazing reaction."
Te:
"It's weird. We used to be able to write whatever we wanted on Twitter. Now we can't even read all the comments we're getting."
Sonny:
"It takes some people years to get that sort of following. To have that in a short amount of time is insane."
You have a lot of female fans already. Would you consider dating a fan?Te:
"I don't think it's a case of dating a fan, it's a case of dating a person. If someone is screamy and screechy, probably not. But if someone is cool, then they have a chance."
Eddie:
"I haven't got time for dating right now, to be honest."
Te:
"You don't know what's coming up though, do you?"
Eddie:
"I've got an idea of what's coming up in the next few months and I don't want to be dating anybody, let me tell you that for nothing."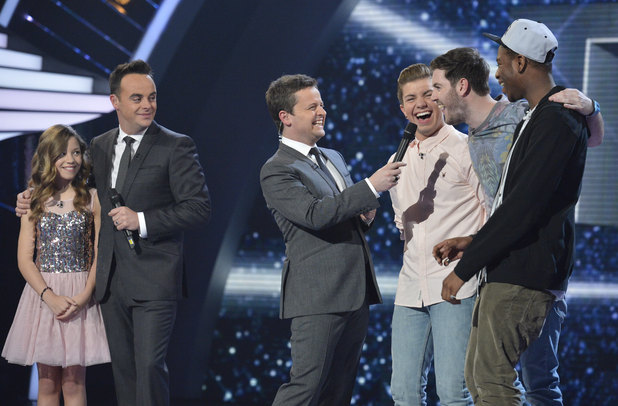 How does it feel to be compared to pop pin-ups like One Direction?Te:
"I really don't think we're like One Direction. Don't get me wrong, they are fantastic and what they've done is incredible. If we can match their success and how big they've got - amazing. But I wouldn't say that we're anything like them music-wise. They are fantastic."
Eddie:
"In terms of pin-ups, we'll have to wait for us to be on a poster or a calendar to call ourselves that. There's nothing to pin up right now."
Te:
"We've got a postcard and that's it."
Would you be willing to pose topless?Eddie:
"I've got a bit of a Derby on me at the moment."
Sonny:
"I think I need to get down the gym and then we'll re-have this conversation. We've had a lot of good breakfasts recently. Every film and TV place has fried breakfasts."
Te:
"And we're not going to say no to a fried breakfast right now."
Eddie:
"We'll never say no to a fried breakfast."
I'm slightly concerned about my £20 bet because you played 'Lovesick' again last night. Did you not consider saving that for the final?Eddie:
"Our main plan was to get to the final. Doing 'Lovesick' in the semi-final was a strategic step. It wasn't playing it safe, but we didn't want to play a total wildcard either."
Te:
"I think doing 'Lovesick' showed the progression of the track. It showed what the track could be as a released single. Now in the final we will show something special."
Eddie:
"We're going to do something out-of-the-box crazy and wow people. At the moment, you know we sing and play guitars, but now we're going to take things to another level."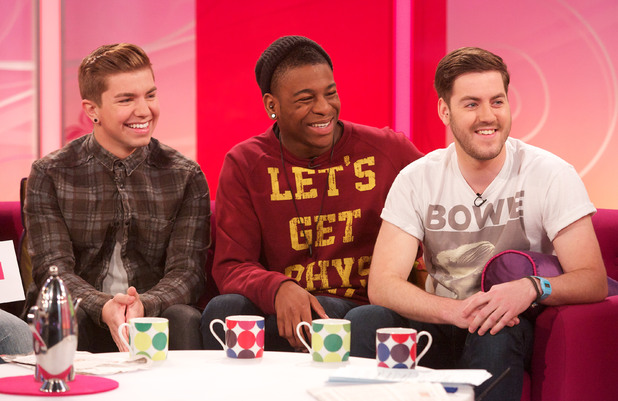 Do you think it's a risk playing a new song for the first time in the final?Sonny:
"If we go out in the industry, we'll need more songs than 'Lovesick' so we have to take that risk."
Eddie:
"I didn't ask you to put that £20 down! That's your own fault. You can't expect us to do the same song forever. That's how life is."
Eddie:
"It would be quite funny if we did only have one song. We'd play one song three times, win £500,000 and just say, 'Goodbye, thanks!'."
Would you consider teaming up with fellow semi-finalist, mad Dennis Egel?Sonny:
"We actually love Dennis."
Eddie:
"I was in the toilet with him and we were both washing our hands at the same time. He just started singing, 'wash, wash, washing, soap, soap soap!' He just makes his own noises and songs up. He's in his own little cuckoo world."
Te:
"It's hilarious. His laugh is so funny, it's like a chain reaction and everyone starts laughing in the room."
Sonny:
"I wouldn't rule out working with him, he's brilliant."
Te:
"That would get you the £20 and the winnings back for you!"
Watch Loveable Rogues' semi-final performance:
What do you look for in a girl, and who are your celebrity crushes?Sonny:
"I like a girl with long hair. Nice long hair. And I love Emma Watson. So if you can hook us up that would be great. I like a girl that is quite different..."
Eddie:
"Ball bags and stuff!"
Te:
"Did you not write a song about two men? Yeah, you did. So don't you start. I like a girl with a bit of edge and who takes risk. Amber Rose basically."
Eddie:
"I don't know what I like. A girl with something about her. I can't be any more specific than that."
Britain's Got Talent's live semi-finals continue tonight on ITV1.