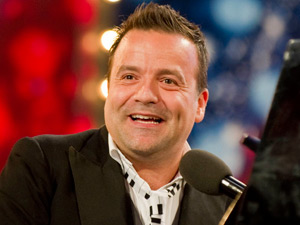 One of the lesser known acts on this evening's
Britain's Got Talent
semi-final is comedy piano-player
Kev Orkian
. He appeared on the last auditions show and managed to impress Piers, Simon and Amanda with his Armenian/Elton John sketch, but has received little fanfare for his performance. We caught up with Kev yesterday to see how he rates his chances.
Are you concerned that your act hasn't had as much publicity as some of the others?
"I am a little bit concerned about that, but you can look at it both ways. The fact that it hasn't been around for weeks and overexposed could be a benefit. That makes it a little bit fresh, so fingers crossed. I think people will watch it and judge it on the moment, so fingers crossed it all goes well."
For those who missed the first audition, how would you describe your act?
"I play an Armenian character, who plays the piano and makes a living in England. The character comes out and doesn't speak good English, he comes out and tries to make people laugh with his take on the English language and the English sense-of-humour."
It's a little bit like Borat then?
"Yes, it definitely has that Borat feel about it. It's one of those things where you have a foreign character trying to make sense of the English. I suppose the difference between the characters is that for my act, it's all based around the piano. All the comedy revolves around the instrument."
What did you do before this?
"The act, I've been doing for five or six years. Before that, I was in musicals on tour. And before that, I was an Armenian-Russian dancer! Nobody has asked me that question yet! It just made me laugh even thinking about it. That's for real and totally serious. I did that until I was about 16 or 17. Then I went into a few productions and the knees packed up to be honest. It's all jumping up and landing on your knees every five seconds. If I'd carried on, I wouldn't be walking now. If it doesn't work out this year with the comedy, I'll be back next year with the Russian dancing - wearing tights and everything!"
How does it feel to know that you've already got a fanclub on websites like Digital Spy?
"Yeah, I'm amazed. Wow. For me it was hard to work out. There was a two minute audition for the judges and that's all I have to go on. You never know how they are going to edit you and you never know how you will come across on TV. When I watched it, I was pleased because even though they had edited it, they pretty much captured the majority of the act. The fact that it has generated some interest and there's some fans out there is brilliant and absolutely ace. Thanks
Digital Spy
."
You've got your own Appreciation group already on the forums...
"Get out mate. You are making it up! I'm going to go on the site now and check this out. I think you're pulling my leg...Oh Jesus, you right, it's real. Thank you for telling me about it!"
How aware are you that over ten million people will be watching the show?
"To be honest, I am aware of it. I just hope that people get it. Because it is a character. It's a character-based comedy act and it's one of my favourites. My mum and dad are the inspiration for it, they pretty much are that person in real life. So for me, it's quite important that people get the act and the momentum of what I'm doing. Then there's also the piano element which ties it all together. Some of my heroes are people like Dudley Moore, Les Dawson, people like that. And Jools Holland with his boogie-woogie piano. To join together all these elements of humour and music, within two minutes, as a comedian is quite difficult. It's a tough gig. But that's what performing arts is all about. It's all about the challenge."
Do you think that's why there hasn't been many comedy acts on BGT?
"Absolutely. I think the main reason, and anyone in comedy would probably agree with this, is that trying to prove yourself in two minutes is a tough ask. A really tough gig. To go out there, establish a character, make people love you, then make people laugh, and finish off with the big gag, standing ovation and applause, all in two minutes, that's like drawing blood out of a stone really. But hey, one of the reasons I came on this show was for the challenge. If people enjoy it and push me through to Saturday, I will pull something even more amazing out of the hat."
What do you hope to get out of the show?
"Ultimately, to be honest, it is about the longevity of what I do. I love being a comic and all-round entertainer, doing the piano, singing and dancing. I would love to do collaborations with other comics, collaborations with other great pianists like Elton John, Billy Joel, Jools Holland. That would be ace. And to do a one-man show and tour would be the ultimate for me. Playing for a live audience every night, hearing that applause - there is nothing quite like it."
Will you be trying to please Simon specifically? He seems to have a strange sense of humour.
"I want to please them all. There is a quote Peter Kay came out with once that "comedy is comedy". If something's funny, it's funny. I'm just going to head out there and do as best I can."
Britain's Got Talent continues tonight at 7.30pm on ITV1