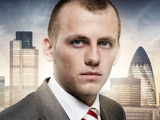 The boys' team ended up facing the wrath of Sir Alan Sugar this week after making a loss of £160.76 in a catering challenge. Team leader
Rocky Andrews
chose to take Howard Ebison and James McQuillan back to the boardroom, where they were grilled by the millionaire about their flop Olympics-themed sarnies. Sir Alan was unimpressed by James's "waffle", but opted to fire 21-year-old Rocky, citing his "immature" mistakes. Was it the right decision? We called the sandwich chain owner to find out.
Do you think you deserved to get fired?
"Well you've seen the show, what do you think? First of all I don't think it was a fair firing. I don't reckon the other candidates had much to offer to be honest. In the car wash and this task I was going for it from the front. But as soon as a food task came up, you could see a glint in all the guys' eyes. They knew if we won, it would be great, but if we lost I would be up for the chop. But I have no regrets because I'm not someone to shirk responsiblity. I think everyone who watches it will know it wasn't a fair firing."
Who do you think should have got the boot?
"Well, there's people still there who have nothing to offer. Only Phil did anything on the task. James did nothing, Howard did nothing, Noorul did nothing, Maj did nothing. Ben didn't do much. How can you put yourself forward and get fired? What does Sir Alan want? Someone who sits back in the car and does nothing? They all knew I was strong competition in there. They will all have slept a lot better knowing they are a step closer and I've gone. They all know that I shouldn't have gone."
Why were Howard and James so shocked you took them back to the boardroom?
"That's just the way they play the game, to be honest with you. They aren't going to say that they are not surprised because then they'd look stupid. In the boardroom, Sir Alan went around all of us and asked who we all thought should get fired and every single man said James. Everyone on the task knows what went on and knows who should have got fired. It should have been James gone. He doesn't do anything on the tasks. Obviously Sir Alan likes him from what he can see in the boardroom, but for me, I've seen him on the task, he's 30 plus and he's bringing nothing to the table."
Howard said you picked the wrong men in the boardroom. Who do you think he blamed for the task failure?
"I think Howard hinted to me and Sir Alan that I should have brought Noorul and Maj back to the boardroom. But I'd already made my decision. I'd been working with Howard and James all day and you soon find out what people are about. I was confident going in to the boardoom that whoever I went in there with, that I would be coming back out successful just because I was the only person who put themselves forward."
What do you think was the main fault with the boys' team?
"The first problem and main problem was the theme. But I think if we pitched this theme in Newcastle, Leeds or Manchester, we would have won the task. I just think there's something about these bosses down in The City, where they take themselves too seriously. I have no doubt if we were in Northern towns, people would have took to our theme."
So you still believe the boys' offering was better than the girls?
"When the girls are going in pitching for a tuna wrap and chicken sandwich... I mean, you can get than any day of the week at Pret. I wouldn't be wanting that in my office. I would be wanting some lighthearted and fun. If it's not what they were looking for then I've misplaced it. But I'm a young lad from the North and I've got few ideas. At the very least, there are better ideas than chicken wrap with no chicken in it."
What did you make of Phillip? He appears to be dividing opinion...
"To be honest with you, Phil was one of the most honest lads in there. I thought that at the time and I stand by it. There is a lot of footage taken and he said things about me after they failed with the pitch, but I think he was fully behind me throughout. I hope he goes on and wins the whole thing. I don't think he will mind, because he's a Geordie!"
What are your plans now you've left the show?
"Straight back up to the North-East mate. It's a brilliant place to do business because people are straight forward. If you're right with people then you'll be a success up there. I think we'll have a week with the peanut butter specials on. But it will only be a week. Then we'll be back to normal."
The Apprentice continues next Wednesday at 9pm on BBC One