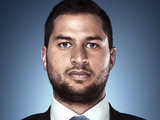 He rolled with the punches and squeezed plenty of orange juice, but it was a disastrous first week on
The Apprentice
for
Edward 'Atta' Hunter
. The boys' team were given a sound beating by the girls and Project Manager Edward faced the brunt of the blame as he abandoned his accountant roots and promoted himself as a wheeler dealer. Needless to say, Lord Sugar was having none of it and soon sent him packing. We spoke to Edward yesterday to find out if he has any regrets.
When Lord Sugar gave you the final words of advice at the end, we got a close up of your face at the door. Were you annoyed or upset at that moment?
"I'm not brilliant at English, but is there a word 'despondent'? Probably that."
So more sad than angry?
"Not sad so much, but I think despondent sounds right. I just don't know what it means. I think anyone with emotional intelligence will know what I mean. I don't think I can put into words what you see on the screen."
Do you agree with Lord Sugar that you made a mistake in distancing yourself from your accountant skills?
"Erm, not really. I didn't go in there to peacock my skills. I wanted to just go in there and be myself. That was just myself. That's what happened. I think it's a bit misleading for people to think I didn't use my skills. I knew all the numbers and margins and what not. I even said on the phone to the boys at what point we broke even. I don't think many
Apprentice
s when they are doing a task would be able to pinpoint things like that. What I didn't do was peacock it, because I just think it's unnecessary. I think business is simple, I don't think you need to complicate it like a lot of candidates do. I'm not worried about what I did there."
There appeared to be a breakdown in communication between you and Lord Sugar at the end. Were you nervous?
"Clearly something was getting lost between us. I think I spoke to him like I would anyone else. I may be wrong, I may be right. I treat everyone the same and if I can answer a question in one word, I'll answer in one word. I'm not one of these people to waffle on and on and on. It's just not me. I'm quite to the point. I thought Lord Sugar would like that about me, but apparently not."
Why did you want to push yourself as a wheeler dealer rather than as an accountant?
"I don't think they're mutually exclusive. And that wheeler dealer thing was done way at the beginning of the process, and to get on the show you've got to be a bit of a nut really."
You roll with the punches a lot. Do you have many bruises?
"I'm alright actually. I'm surprisingly well."
Were you aware that you kept saying that phrase?
"Erm, yes. Probably. It didn't surprise me when I watched it back."
You brought Gavin and Leon back to the boardroom. What didn't you like about them?
"I liked both Gavin and Leon. I think they are both absolutely top blokes and I can't wait to go bowling with them. I think they're brilliant."
My favourite candidate so far is Vincent. What was he like?
"I love Vincent. He is extremely good looking. His body is impeccable. He will be in 'Torso Of The Week' and whatever. An incredible body. He's a really good guy. Forget the looks and all that. Behind all that front, he's a really nice guy."
What does the future hold for Edward 'Atta' Hunter?
"I'm absolutely open. It's a shame I didn't get a few more weeks on the show. But, you know, the moon is the limit, to steal a quote from Melody. Anything is possible. I've got a few things going on if you're interested?"
We're always interested...
"I'll do a sales pitch then to see what you think. The background is that I'm half-Afghan, so I love Afghanistan; I'm half-English, so I love England. We've been there for ten years [at war] and I don't feel the British population know anything about Afghanistan when it comes to food or culture. So I want Britain to taste Afghan food. I'm going to launch Atta's Afghan Josh. People will like it, because people like curries. I want people to go, 'We've been here ten years, we know nothing about the country, rather than get an Indian curry, we'll get an Afghan one'. Also, on top of that, I want to give some money to Help for Heroes. Like plenty of Afghans, I love what these men and women are doing to keep the country secure and safe and I support them. That's a message people are not seeing. I'd like the press to go to town on that point. If nothing comes my way and I can get no other employment, I will join the army to fight in Afghanistan. I think it's fantastic what they are doing."
Do you have any regrets from the show?
"No, I think regrets are a choice. I choose not to have regrets."
The Apprentice continues tonight at 9pm on BBC One> Q&A: Lord Alan Sugar (The Apprentice)> Apprentice audition videos: The boys> Apprentice audition videos: The girls> Q&A: Apprentice winner Lee McQueen> Read our full coverage on The Apprentice