Dust off your power suit. Polish up your business speak. And prepare yourself a silly catchphrase ("I will roar my way to the top!"). Because
The Apprentice
is back.
The reality TV show that even reality TV haters enjoy is back for another run and Lord Alan Sugar has 16 fresh chumps ready to make themselves look silly in the hope that they can secure a £250,000 investment from the Amstrad tycoon.
But what's even more exciting than having Shugs's grizzled tones and firing finger back on the box? The fact that we have
Nick Hewer
& Karren Brady back!
Digital Spy
caught up with the eyes and ears of the show to get the lowdown on the 2012 series.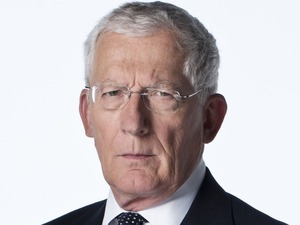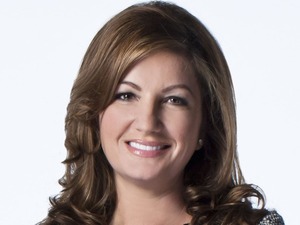 What's the atmosphere like in the boardroom for you two? Is it as tense as it looks on TV?Karren:
"Very tense. I'm often hanging on to my desk. Actually it's interesting for me because I watch it on a Wednesday night, I don't prewatch it. I watch it with my family, and even though I know who's going to be fired I'm still on the edge of my chair. The atmosphere is fantastic in the boardroom, it's very intense. You can see why people, in the episode you've just watched, are literally hanging off their chairs. It's a great show."
Do you ever have to stifle a laugh when Lord Sugar says something?Karren:
"Alan is incredibly witty and nothing is ever scripted, it's all his own words and very often I get kicked under the table."
We see a lot of women bickering in episode one. Does that make you despair, Karren?Karen:
"I actually think they're all very credible people. They're all from very different backgrounds. Very interesting types of people from people that were in beauty or technology, fine wine, wrestlers, greengrocers, there's something for everybody. And they're very strong candidates. And they'd have to be because trust me, those tasks are getting more and more complex.
"They're getting more and more difficult. There's very many strands to them. And some of the things you'll see in this series, I think Alan's right, will be a masterclass in setting up a business as well as seeing people use their talents to try to steer through them."
We're on series 8 now. Do you get frustrated when they make the same mistakes?Nick:
"It's interesting, isn't it? Obviously they've all watched the previous series but once they get into that house and the pressure is on and the heat's turned up they've got task after task day after day. It's 6 in the morning, they've got to watch the bloke approaching them with a knife to stab them with. It all turns to jelly. They make mistakes and, I'll tell you, if I was put in the same situation I'd make the same mistakes too. So we all might laugh at them and think that they're mugs but actually it's a very tough place to be."
Would you react in the same way then on the show?Nick:
"I hope I would have learnt enough and of course they'll make that same promise to themselves when they walk in, 'Oh I've watched them all, oh I know how to handle this'. Then suddenly it's 'bang!', someone lights the blue touch paper. And they're off and running."
Karen:
"I've done a task myself with Comic Relief. The intensity of the process, dealing with the personalities and trying to get your point across, if you multiply that by the number of series you can see how some of them who start really strong fade away or some start to build up as they get their confidence. As I always say, it's remarkable for Nick and I because we watch individuals go on this journey. It's lovely when they think, 'You know what, I'm pretty good at this, I can manage people, I can do this' and you watch their confidence build and it's great."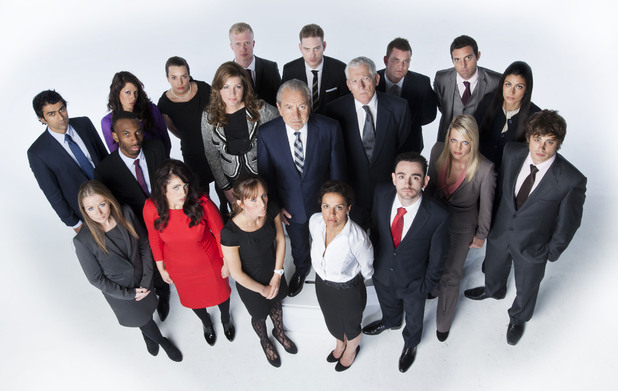 The house is amazing this year. Do you guys spend any time observing people in the house?Nick:
"No, not beyond task time. If they're doing brainstorming in the house, we're there. If they're getting a briefing in the house, we're there. But once they go back and the door's closed, there's a crew in there and we have people to look after them."
You described the girls as hyenas, Nick. Do you think there was any amount of sexism there because all the boys raised their voices as well?Karren:
"I think it was an honest observation and as I said, when the pressure starts to mount up and everyone wants to get their word across it's incredibly difficult to hear. And that happens on the boys' team as well as the girls' team."
"We've seen it before, when people need to stop, they need to think, they need to articulate their point. Because when that noise happens, everyone stops listening."
Are you ever shocked at how competitive they are?Karren:
"No, never. Trust me, to get £250,000 is a very good prize. To get Alan to be in business with you is an incredible opportunity."
Will you two stay on if the series returns?Nick:
"I only took on the
Countdown
thing on the basis I could do
The Apprentice
as well. It's tough enough, but I wouldn't have done
Countdown
had I not been able to do the
Apprentice
as well."
Do the contestants ever try any buttering up tactics with you?Nick:
"There was a guy years ago, poor chap, we always have to pick Syed. He was the one who ordered a load of chickens for pizza, but he didn't specify the weight and consequently the poultry gave him the biggest bloody chickens on earth. One for every bloomin' pizza. He used to slide up, he used to oil his way across the floor and say, 'Nice tie'. And I'm sure people have said 'Nice fragrance' to you, Karren."
Karen:
"I've had a few 'Nice dresses'. I think one of the funniest was with one of the juniors, one of the young lads. He said to me, 'Do you know any famous people?' I said, 'Not really'. He said, 'Have you met Lady GaGa?' 'No, no I haven't met Lady GaGa'."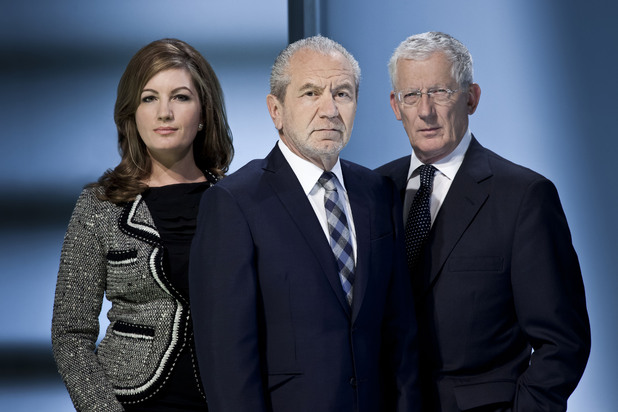 Do they flirt?Nick:
"I think I can speak for Karren, and if I get it wrong you'll tell me. We keep our distance. There's no point having favourites from the outset. Keep your distance, we're observers that's all. And we can't help them, to even give them a hint would be a mistake and wrong because they've got to all compete on a level field.
"Towards the end of the process maybe when there are four or five left, you have to know that you like them. And actually when they're fired, and they thank us all for the opportunity, particularly Lord Sugar, they stagger out to a taxi with the engine running, Karen will go out and pick them up off the floor. Or I will. Or Sugar will go out. Because by that time we know them, and some of them are in tears: not because they've been fired but because they've been removed from the process.
"It's such an extraordinary experience for them so at that stage there is a contact with them. A sort of personal contact."
Do you keep in touch with people from last year? Do you have tears off camera?Karen:
"I think that some of the junior ones... I don't think we have tears but we do feel very emotional for them. Because they are very young. Particularly in the first week when the first one goes. With teenage children myself, you feel for them, they're much more emotional than the adults. We've often gone outside with a hanky and an arm. And Alan gives them his card."
Nick:
"Do you remember the kid from West Brom? A stocky kid. I went and gave him a hug and he started sobbing. You gave him a big hug and Alan gave him a hug because they're only kids. And we love them. And at the end of it we have great kids in there, great kids.
"I'll tell you what, Alan's great with those kids because he alters his demeanour to them. Karren's a mum so she can do it. I find it very difficult. Alan said to me, 'For chrissakes, can't you soften your tone a bit?'. He's very good with them."
The Apprentice launches tonight (March 21) at 9pm on BBC One
.
Watch a preview clip of tonight's
Apprentice
below: