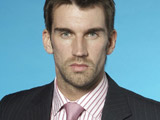 Apprentice
winner
Lee McQueen
has reportedly started his own company in case his role with Sir Alan Sugar is not a success.
The former recruitment sales manager landed a £100,000-a-year job with Sugar when he
won
the BBC reality show last week.
However, he is said to have started LMM Consultancy Services towards the end of filming last November so he has a business to fall back on if necessary.
The Sun
quotes a friend as saying: "Lee is a pretty sharp operator so he set this firm up just in case. He's adamant that the role with Sir Alan will work out, but if it doesn't, he plans to offer advice to new businesses.
"His firm doesn't really do anything at the moment, he's just been using it to channel cash he's earned off the back of the show."
McQueen recently
revealed
that being apart from girlfriend Nicola was the hardest part of filming
The Apprentice
.