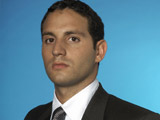 Former
Apprentice
star
Michael Sophocles
has criticised nearly all of this year's contestants.
Sophocles, who was fired in week 10 of last year's show, said that trainee stockbroker Ben Clarke has a face "you just want to punch" and described 32-year-old James McQuillan as "a plank".
"In my opinion [James] deserved not only to get fired, but to have his tongue surgically removed for his annoying jabbering in the boardroom," Sophocles told
The Sun
.
Meanwhile, he branded marketing consultant Kate Walsh a "village idiot" and claimed that teacher Noorul Chaudhury "reeks of incompetence".
He also warned that 24-year-old Debra Barr should not be crossed because of "the venom churning round in her stomach".
Philip Taylor, Mona Lewis and Yasmina Siadatan were the only applicants praised by the reality TV star.
Sandwich chain owner Rocky Andrews became the
second candidate
to be fired by Sir Alan Sugar yesterday.