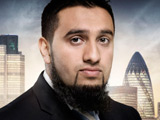 Fired
Apprentice
candidate
Majid Nagra
has tipped Phillip Taylor to win the series.
Nagra said that Taylor, an estate agent from County Durham, is the "strongest" applicant still on the show.
"I think Phillip 'The Power' Taylor is going to win it," he told
DS
. "He's got so much to offer it's unreal. Out of all the boys, he's the strongest candidate.
"If he doesn't win it, I'll be very surprised. They won this week's task because of Phillip. There's a lot more to see of him and I hope he wins it."
Nagra was less impressed by 32-year-old James McQuillan, who was saved from the axe this week by Sir Alan Sugar's assistant Margaret Mountford.
"I don't know what [Margaret] saw in him," he said. "Maybe he made her a cup of tea or something. I don't know what he said, but he must have said something good for her to say that he was alright.
"I honestly think we lost this task because the product was bad and because of James's mistakes."
> Click here to read our full interview with Majid Nagra