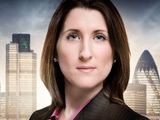 Apprentice
hopeful
Debra Barr
had a breast enhancement to boost her self-esteem, say tabloid reports.
According to
The Sun
, the 24-year-old senior sales consultant increased her bust from an A-cup to a D-cup when she was only 17.
"She was unhappy with her figure and thought getting fake boobs would make her more attractive," said a source.
The insider also claims that Barr, who has been criticised for her aggressive approach to business on the BBC1 show, was unpopular at Beacon School in Surrey.
"She was always very pushy and people tended to dislike her for it," they added.