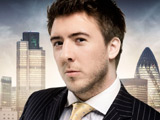 Ben Clarke has become the ninth
Apprentice
candidate to be fired by
Sir Alan Sugar
.
The 22-year-old stockbroker was axed because of his role in Team Empire's loss in the baby showroom task.
Ben was brought back to the boardroom alongside project manager James McQuillan and Debra Barr after they only made £722 of sales from rocking horses and birthing pools. It was the fourth time that all three candidates had returned to the boardroom.
James blamed their failure on his sub-team's insistence that they should sell expensive rocking horses. Ben and Debra failed to sell a single horse during the challenge.
Explaining to Sir Alan Sugar why he shouldn't get fired, Ben pleaded: "I have shown you that I have got raw business talent, I've shown you that I've got raw acumen.
"I've shown you that I can be a complete grafter...I can compete at a world class level. I've had an army scholarship to Sandhurst."
James stated his case to remain in the competition by discussing his experience in a "very big organisation". "I have got to quite a senior level of management. I haven't got there through being a nasty guy who is just going to worm his way up," he said.
However, Sugar expressed concern that James is a "Mr Nice Guy" and "Mr Cuddly" that won't cut it in his organisation. He also criticised Debra, who he claimed had left a bad impression over recent weeks on his aides Margaret Mountford and Nick Hewer.
In his final summary, the Amstrad boss said that he was concerned by Debra's "temperament" and James being too much of a "nice fella", but pointed the finger of overall blame at Ben.
"It is a very tough decision and it is not a nice one for me to be perfectly honest but I feel that the light at the end of the tunnel has gone out quite frankly," said Sugar. "And I think it is time Ben for you to leave this process - you're fired!"
The Apprentice
continues next Wednesday at 9pm on BBC One.