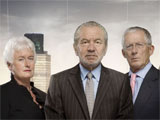 Sir Alan Sugar has fired three more
Apprentice
candidates after the gruelling interviews challenge.
James McQuillan
, Lorraine Tighe and Debra Barr were all given the boot from the boardroom by the Amstrad boss after a tough round of interrogations from four of his most trusted advisers.
Chief executive Bordan Tkachuk, Birmingham City director Karren Brady, business advisor Alan Whitter and multi-millionaire Claude Litner grilled the final five applicants about their CVs and credentials, before they returned to the boardroom to find out who had made the final.
32-year-old McQuillan was the first to be dumped out of the competition, with Sugar claiming that the sports fanatic's "friendly and light-hearted" approach to business wouldn't work in his company.
As his fellow contestants broke into tears, McQuillan bid farewell to the show: "Cheerio. It's been brilliant!"
After a brief break, Sugar called back the remaining four females and fired 36-year-old Lorraine. He claimed that he had sympathy for the mother-of-two's "hard upbringing", but argued that she wasn't "suitable" for his organisation.
Sir Alan warned Kate Walsh that she was in danger of being too "robotic", but confirmed that she was the first applicant through to the final, leaving Debra to fight it out with Yasmina Siadatan.
The entrepreneur expressed concern that Yasmina had already started her own business and may not enjoy the restraints of working for him, but after a long pause chose to axe Debra.
"I am not worried about the person who is leaving here because I know that they are going to do very well in their life," said Sugar. "Debra, you should be proud of yourself. I've made my decision and I wish you the best of luck, and I know that you are going to be successful in the future.
"Debra, you're fired! Keep in touch."
Afterwards, Sugar offered the final two candidates some words of warning about their behaviour in the remainder of the competition.
"Walking out of that door right now may be my biggest mistake," he said. "I don't want either of you to let me down. You've made a commitment to me and I expect you to stand up to those commitments."
The Apprentice
final airs on Sunday, June 7 at 9pm on BBC One.