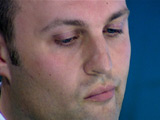 Fired
Apprentice
candidate
James McQuillan
has said that he would be interested in a comedy career.
McQuillan, who was
fired
by Sir Alan Sugar after yeterday's interview challenge, was also applauded by the multi-millionaire for his sense of humour during his time on the BBC One show.
The 32-year-old admitted that he would be stupid to turn down any offers of entertainment or comedy work that might come his way off the back of the reality show.
"There's not many areas which combine both business and comedy, which is very frustrating," he told
Digital Spy
.
"But I wouldn't mind giving it a go. If someone is willing to pay me money to stand up, tell jokes, or write them down, then I think I would be missing an opportunity not to take it."
The Apprentice
final airs at 9pm on BBC One on Sunday.