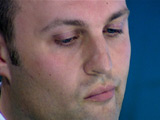 Apprentice
star
James McQuillan
has said that he is proud of beating Ben Clarke on the show.
The 32-year-old sports fanatic, who was
fired
by Sir Alan Sugar yesterday, revealed that his male rivals were always shocked whenever he survived the boardroom.
"Every time I went back to that house, it was always the men that looked surprised," he told
DS
. "Particularly one of them, who was probably thinking about going to Sandhurst at the time - I think you'll probably guess who I mean.
"I remember at one point that person said to me, 'How have you not got fired?' I felt a tremendous amount of pride when I got further than he did."
McQuillan, who was the most successful male in this year's competition, also claimed that Sir Alan Sugar had made the right decision with an all-female final this year.
"I think that he has picked the right two for the final. I would like to see - and think I will see - Yasmina winning," he said. "Just because I think Sir Alan is looking this year for a risk taker, someone who isn't the textbook applicant."
The
Apprentice
final airs on Sunday on BBC One at 9pm.
> Click here for our interview with yesterday's fired candidates James, Debra and Lorraine