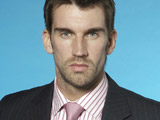 Apprentice
winner
Lee McQueen
has announced that he is to part company with Amstrad tycoon Lord Sugar after two years.
The 32-year-old, who triumphed over Claire Young in the final episode of series four, will leave his £100,000-per-year job with Sugar's digital advertising firm Amscreen at the end of the month.
It is thought that McQueen plans to concentrate on public speaking engagements after enjoying giving motivational talks to youngsters recently.
Speaking to
The Sun
, he confirmed: "Having gained a huge amount of experience in my role at Amscreen, I felt now was the right time to start up on my own."
Lord Sugar added: "Lee has made an important contribution to Amscreen and we wish him the best."
McQueen is the fourth
Apprentice
winner to part ways with Sugar. Series five's Yasmina Siadatan is now the only champion from the main show who still works for the businessman.