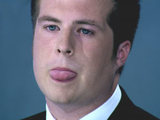 Former
Apprentice
candidate James McQuillan has mocked this year's contestants on the BBC One reality show.
McQuillan, who reached the interview stages on last year's show, claimed that
Stuart Baggs
is particularly dreadful, branding him a "real-life David Brent".
Speaking to
The Sun
, he said: "I think this year's crop are the most clueless bunch of baboons since last year's clueless bunch of baboons. Great telly, but I don't think I would want to work with anyone.
"I think Stuart Baggs is mental, a real-life David Brent, and I can't wait to see Stella [English] whack him."
The 33-year-old also revealed that the candidate he is backing to win a job with Lord Sugar is Joanna Riley. "She seems to understand what's required in each task immediately," he said.