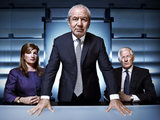 Have you ever wondered how Stuart Baggs managed to make it into the final stages of
The Apprentice
? Were you baffled at how Michael Sophocles slipped through the producers' net? The candidates' audition videos, where they typically promise the earth, the moon and record-breaking sales, are usually a fairly good explanation for these TV mysteries. You can get a first impression and make up your mind on all the male candidates from the upcoming seventh series below:
> 'Apprentice' audition videos: The girls
> 'The Apprentice' series seven preview
> Q&A: Lord Sugar ('The Apprentice')
> 'Apprentice's Alan Sugar: 'TV wannabes talk b*llocks'
The Apprentice
returns on Tuesday, May 10 at 9pm on BBC One.
Leon Doyle's audition video
Alex Bitez Cabral's audition video
Jim Eastwood's audition video
Edward Hunter's audition video
Gavin Winstanley's audition video
Thomas Pellereau's audition video
Glenn Ward's audition video
Vincent Disneur's audition video