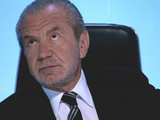 Lord
Alan Sugar
has denied reports of a conflict with last year's
Apprentice
winner Stella English.
The 63-year-old businessman bemoaned the "total garbage" that he predicted would be printed tomorrow following English's appointment to YouView, an
"exciting" on-demand TV site that he was appointed chairman of back in March
.
As speculation grew about the reasoning behind the 31-year-old's move, Sugar explained on Twitter: "Media asked if there was a problem/conflict with Stella at [original company] Viglen.Total garbage,expect lies tomorrow.Unbelivable negative world we live in (sic)."
He added: "That's the beauty of twitter I can tell you the real story on Stella, with 600k followers that's more than the circulation of some papers."
English, a former manager at a Japanese investment bank,
beat rival Chris Bates to a £100,000 job with Sugar in the series six final of The Apprentice last December
.
She said after her win: "I'm so excited about the future. It's all been worth it, all that blood, sweat and tears... I'm just so happy."
English previously
described her success on the reality show as "phenomenal"
.
The seventh series of
The Apprentice
, which will
see the winner start a business with Lord Sugar
, continues Wednesday at 9pm on BBC One.
Watch Lord Alan Sugar choose Stella English as his next
Apprentice
below.