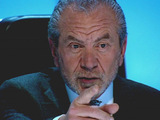 Lord Sugar pulled his trigger finger for the first time in
Apprentice
series eight last night, uttering the dreaded "you're fired" catchphrase at Bulgarian Bilyana Apostolova.
But did Shugs make the right call in axing the blabbermouth risk analyst? Did he go back on his word by letting Katie Wright hide away on the first task?
Or maybe you think project manager Gabrielle Omar should have been given the boot for failing to control the girls' team?
Share your views on last night's series opener below and who you thought should have been fired in our poll.
The Apprentice
continues on Wednesdays at 9pm on BBC One.
> Bilyana Apprentice interview: 'I wanted the earth to eat me up'
> Apprentice first episode review
> Apprentice Nick Hewer, Karren Brady interview