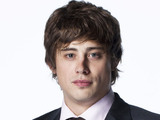 The Apprentice
candidate
Nick Holzherr
faces a stock crisis in tomorrow night's task.
Sterling's team leader Nick's fake tan sales flourish in Essex for Lord Sugar's beauty task.
However, his chances of survival suffer the ultimate blow when he makes the decision to reinvest the entire team's profit on more tan after running out.
Before the team run out of stock, Nick Hewer observed: "The fake tan is shifting very rapidly... soon everybody in Essex will have one."
Ricky Martin and Stephen Brady, after collecting a new box of fake tan bottles, become stuck in traffic on their way back to the warehouse.
To add insult to injury, Nick discovers that Ricky and Stephen were only given a limited supply of the tins, leaving their chances of victory looking increasingly slim.
The Apprentice
airs Wednesdays at 9pm on BBC One.
> Apprentice Ricky Martin, Stephen Brady role play to sell mops - video
> Apprentice Azhar branded "annoying" by rival - video
Watch the trailer for tomorrow's
Apprentice
below: