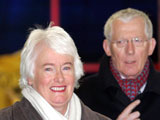 Sir Alan Sugar's
Apprentice
sidekick
Nick Hewer
will drive 10,000 miles to Mongolia for charity.
The 64-year-old will travel through 13 countries - including France, the Czech Republic, Russia and Uzbekistan - before arriving in the Mongolian capital Ulan Bator.
Hewer will undertake the journey in a 20-year-old Renault to raise £5,000 for a children's charity.
He said: "I am setting out on an overland trip to the capital of Mongolia.
"Why am I driving 10,000 miles in an old car that can barely reach 60mph on a good road? Because it's time for an adventure and because, in doing so, I am hoping to raise lots of money for Hope And Homes For Children."
Sugar has sponsored his aide £1,000 and left the message "Good luck you old rambler" on the
Justgiving website
.
Tim Campbell, winner of the first series of
The Apprentice
, has agreed to donate £50 to Hewer's cause.