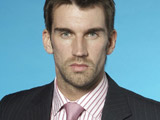 Sir Alan Sugar
has hired recruitment sales manager Lee McQueen to be his new apprentice.
The 30-year-old milkman's son triumphed over Alex Wotherspoon, Claire Young and Helene Speight in last night's final.
Lee and Claire triumphed in Sir Alan's last challenge, which was to design and launch a new male fragrance.
Fired candidate Michael Sophocles praised Claire's efforts in the task, telling Sir Alan: "Claire's been in the boardroom a number of times but she's shown so much tenacity and strength."
Simon Smith added: "With Claire you have a candidate that's evolved over this competition and taken on board what others have said to her.
"With Lee, you have someone who's consistent, consistently strong and consistently a winner from the start."
However, Jenny Celerier backed Lee, commenting: "He's such an amazing guy, this guy opens doors for people, no matter what has happened in the house, he has remained a gentleman."
After a long period of deliberation, Sir Alan concluded: "Claire you have some great attributes and Lee you're very convincing.
"You are very, very, very convincing. I've concluded... Lee, you're hired!"
> Click here to read our exclusive interview with Alex Wotherspoon