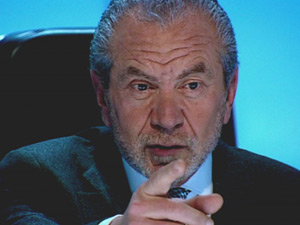 Hibah and Jordan have been sent packing back to the classroom, but there are still eight candidates vying for the title of the
Junior Apprentice
.
Reality Bites
will be covering the third episode live tonight, offering our usual no-nonsense views on all the applicants. Feel free to voice your opinions in the box below during the show or drop us a tweet
@dsrealitybites
.
22:01:
What did you all make of this week's show then? Was Rhys the right man to go? And were you disappointed we lost Adam to the lurgy? We'll be back here next week, ready and raring to go for a highly-anticipated art task - it should be a belter!
21:57:
Tim has avoided the bullet at the last second! Rhys Rosser is told that he is "very special" by Lord Sugar, but apparently it is "just a little bit too soon" for him. At least Rhys reveals in the back of Lord Sugar's car that he is is now over his "height complex". It's enough to warm even the most cold-hearted viewer's heart. Bless his cotton socks.
21:54:
Lord Sugar is gunning for Tim, describing him as being like a "hamster on a wheel" going around in circles. But what's this?! Tim pulls out the big guns, the classic
Apprentice
get-out-of-jail-free card - "make me project manager next week". Will that save his bacon?
21:51:
Poor old Rhys. He keeps throwing his hands in despair. He looks like he will cry, "It's so unfair!" at any moment. There's probably some feet stomping going on at the moment under the table.
21:49:
This is the first real boardroom battle of the series. It's an unfair fight though, with Rhys being ganged up on by the other three. He's been sold a wrong 'un and cast adrift. Will Nick Hewer and Lord Sugar pick up on that?
21:45:
No shocks with the result. Rhys's team flounder with a loss, while Zoe's make a tidy profit. Even with a sickly Adam, it was an easy win. Their reward is some tea with a bloke called Richard Branson... No, we've never heard of him either.
21:42:
Lord Sugar compares Rhys Rosser to Mr Kipling. It would be the funniest moment of the show in any other episode, but Tim Ankers raises the bar. He reveals that not only does he dislike wind (his least favourite weather type), but he is also not a fan of cakes.
21:39:
A shock as the candidates return to the boardroom. Lord Sugar tells Adam to go home to his mum and dad. He's not fired, but has been forced out with sickness. I believe that is an
Apprentice
first! Adam is off to get tucked in with his mummy and have some boiled egg and soldiers. Probably.
21:36:
Emma Walker appears to be unhappy that Zoe is strolling the biggest bitch award. She's reeling out some serious gobby arrogance to the cameras. Tim Ankers is not far behind as well, threatening to "execute" Rhys if he takes him back to the boardroom.
21:30:
It's nearing the end of the day and anything goes now. The giant cupcake outfit appears to have eaten Zoe and is now attacking Arjun. Rhys Rosser is reaching desperation point. He looks like a character from a Dickens novel, begging for spare change.
21:27:
However, everything isn't peachy with Zoe's team. Sickly pig Adam is getting orders by the dozen and he is struggling to do anything right now. Zoe is holding the fort in a giant cupcake outfit, but the customers are getting restless waiting.
21:25:
Kirsty and Rhys are all at sea selling their high fashion cupcakes. I want to go and help poor Rhys out. I'd buy anything off him, just because he looks like he needs a good feed.
21:21:
Tim Ankers's verdict on Rhys Rosser's leadership skills. "He needs to get his head back on this planet." Poor old Rhys, I really feel sorry for the kids in this episode. He looks all at sea. Only sickly Adam, who looks like he might vomit in the back of the car at any moment, looks worse.
21:18:
Zoe's team are looking strong, but Adam's illness and a debate about the number of cakes is threatening to hold them back. "400 CAKES!" "NO 850 CAKES!" "NO 350 CAKES!" You get the idea.
21:15:
"I'm not a great one for pity," scowls Zoe Plummer. Lord Sugar will like that sort of cutting edge. You really wouldn't want to get on the wrong side of this girl.
21:13:
Arjun, Emma and Adam are being led with an iron fist by Zoe Plummer, who appears to have ditched her beret to be project manager. if anyone steps out of line, they can expect a good whipping. Quite possibly, literally.
21:09:
Is Tim Ankers purely on this show to pick up chicks? He's
so
laidback. Swinging on his chair in a brainstorming session with his team (Rhys, Kirsty, Hannah), he looks as cool as a cucumber. Poor old Rhys has been shoe-horned into being PM. He looks even more sheepish and awkward than normal.
21:07:
The task this week is to design and sell cupcakes. Someone should tell Sir
Alan Sugar
it's all about whoopie pies this year.
21:05:
Ooh dear. Adam looks a bit green in the face. He claims to be "under weather". Maybe Sir Alan's attack in the last episode has taken it out of the poor chap.
21:03:
A quick recap of Hibah's farewell and Adam's lucky escape last week and on with the show! Tim Ankers is on the hair straighteners, Zoe is doing her clown make-up and poor Rhys Rosser has got the wrong sized suit again. Do you think if he lasts to the final, he will eventually find one that fits?
21:01:
Is anyone else worried that these were the best out of 28,000 applicants? Can you imagine what the other 27,990 were like?!
21:00:
It's Wednesday, it's 9pm, it's
Junior Apprentice
time. Who will get the finger wag of doom this week?!