"Let me give you a warning, don't try and hide. We're not playing 'Where's Wally' here. I'm not looking for Lord Lucan," barked Lord Sugar at the start of tonight's
Apprentice
, leaving one of his 16 candidates sweating cobs under the boardroom lights.
Old Shugs is back and don't believe the rumours that he's getting softer in his old age. "If I wanted a friend I'd get a dog," he growled at the latest batch of eager-to-please, power suit-wearing schmucks.
If you thought the likes of Baggs the Brand, Jedi Jim and "good little Jewish boy" Michael Sophocles couldn't be matched for bonkers boardroom laughs, think again.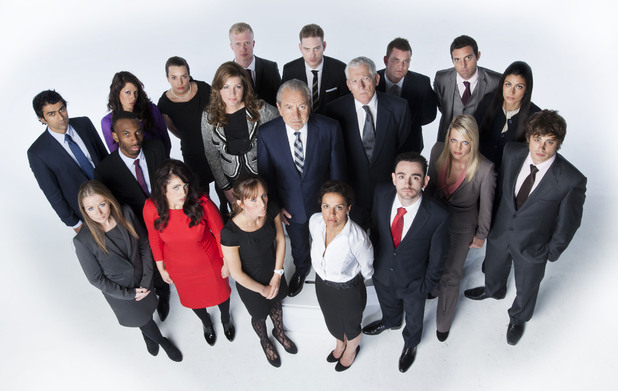 There's Maria O'Connor, a woman whose use of eye shadow would make Boy George look understated, boggle-eyed and shiny suit enthusiast Stephen Brady, a chap who sells fridges, a woman who clearly believes that being a control freak is a compliment and a chap called Ricky Martin (no, not that one) who's a superstar businessman by day, pro wrestler by night. He also claims to be the "reflection of perfection". Ahem.
Shugs's first challenge for business wannabes and big mouths was fairly standard
Apprentice
fare, handing the boys' and girls' teams £500 in cash for blank merchandise. All they had to do was design a print brand for the merch and then flog it for profit to poor unsuspecting tourists.
Opening episodes of the
Apprentice
have two regular hilarious features. The nomination of the project manager (nobody wants it in week one) and the team name brainstorm. Sadly, the boys were sharp off the draw and picked the reasonably sensible Team Phoenix title. However, the girls didn't let us down.
Jenna Whittingham picks the name Sterling for the girls, claiming that the word symbolises strength and making money. We guess it could mean that Jenna. Either that or it may symbolise a crumbling British economy being run by idiots. Both are more than appropriate for
The Apprentice
.
But how did Jenna come up with a name of such magnificence and originality? "It came to me in a dream, Lord Sugar. A friend told me in a dream last night." Blimey.
On the task, both teams had their fair share of clangers. The boys, led by rugged mop-topped indie boy bit-of-rough Nick Holzherr, opted for the cut corners, sell high, forget the consequences approach. Selling teddy bears (that's Jack!) for £15 a pop at St Pancras station and bags with 'This Is A Bus' smudged prints wasn't likely to earn the team long-term business, but for the purpose of the task, they got the fast bucks.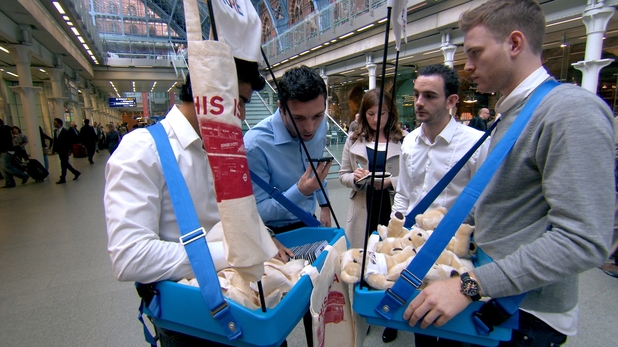 > 'The Apprentice' biggest ever buffoons - In Pictures
> 'Apprentice' Nick Hewer, Karren Brady Q&A: 'Candidates oil up to us'
Creative-type Gabrielle Omar PM-ed the girls and captured Nick Hewer's attention with her cute ("A very worried looking penguin") print design, but riled her pumped-up female colleagues with her laidback approach to the project. "As an architect she can draw. That's it. She can draw buildings," sniped a rival, who clearly doesn't think you learn much in five-year university degrees on the subject.
Sadly for Gabrielle, this wasn't a design task, it was a selling task. And the girls weren't doing much selling. They were either hanging around waiting to go to London Zoo, fighting and scaring young children in London Zoo, or getting lost on their way out of London Zoo.
At the heart of the Zoo sub-team were Bilyana, a motormouth Bulgarian with a sob story to plug, and Katie Wight, a so-called Blonde Assassin who was lazier than a panda bear when it came to pushing the merch. The tension between the girls came to a head in a Primrose Hill boutique, where the "baying hyenas" clashed over a sale and ended up scaring a poor shoplady to near tears with their clucking.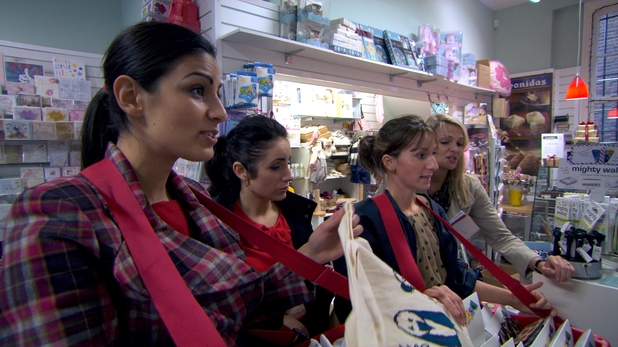 Back in the boardroom, it wasn't even a close call as the boys walked away with a stonking £616.20 profit over the girls' piddling £214.80. The boys' reward was a treat of bizarre cocktails and the chance to baggsy the best beds at the swanky new shared pad.
After the rite of passage at the Loser Cafe, Gabrielle, Bilyana and Katie were left to duke it out to avoid the embarrassment of being first out of the door.
Gabrielle showed she could be feisty, Katie kept quiet and Bilyana talked. A lot. And she talked some more.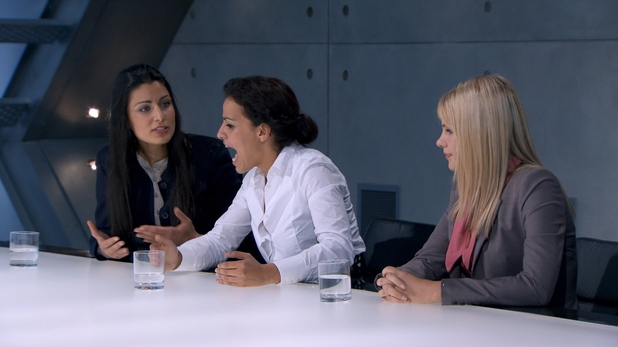 Shugs didn't like the cut of Katie's Lord Lucan-esque jib, but Bilyana just wouldn't stop jabbering on and on and on. "This is a two bob outing. This is not a takeover of Goldman Sachs," groaned Shugs, before popping out his firing finger for the first time this series.
Next week, the teams have to create a household gadget. What could possibly go wrong?
Did you enjoy tonight's Apprentice? Was it as funny as ever? Share your views below!> 'Apprentice': Lord Alan Sugar's first fired candidate revealed> 'The Apprentice' winners - where are they now? In pictures