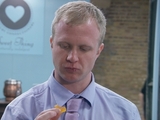 It's crunch time on
The Apprentice
. There's only one more task before our final four get their business plans ripped apart by bigger boys and remarkably everyone's still keen to get that verbal slap in the face. This week the candidates are dragged out of bed and taken to an arcade, where they're challenged not to a game of air hockey or
Dance Dance Revolution
, but to create a luxury affordable product range.
On Phoenix,
Lord Sugar
appoints Adam Corbally as Project Manager - presumably because he's getting a bit bored of the process right now and fancies a laugh. Our favourite
Apprentice
whipping boy is on top form again, coming out with some wonderfully wacky suggestions for what to develop (like a chocolate bar named 'chocolate bar' because you can have it in a bar and it's a bar etc, etc) and keeping up his feud with Jade Nash. Even team mate Nick Holzherr can't resist pulling faces behind his back like his namesake on the other side of Lord Sugar's boardroom.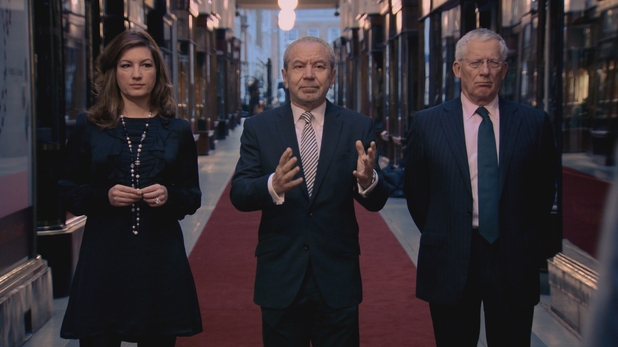 On Adam's orders, this year's last remaining female is bundled into the back of a taxi to cook up some lovely chocolates, while he and Nick stay behind to research the business model, create the brand... basically do the entire task. I would be tempted to suggest that this choice is verging on being misogynistic, but it's probably a good call considering that the last time he was in a food task Adam suggested using corned beef. Imagine biting into a nice truffle and getting mushy meat in your mouth.
The decision doesn't have much effect anyway, as Jade picks up the phone with a life-saving suggestion every time the boys draw a blank and her Nash-sense starts tingling. Her brand name 'Sweet Thing' is taken up even though Nick and Adam appear physically repulsed by the idea (which is a bit rich considering they have resorted to randomly mashing the worlds chocolate and cocoa together) and she convinces Adam to plonk some booze-soaked 'drunken jellies' into his confectionary box.
Over at Sterling, Project Manager Ricky Martin finally gets some company in the shape of Tom Gearing. Their plan is to harness their shared metrosexuality to launch the ultimate male grooming brand, but the process gets off to a slow start when they are only able to come up with names more suited to a gay bar. As in, "I pulled a right hottie in Dapper/Debonair/The Grooming Guild/Man's Choice last night".
While professional man-wrestler Ricky is out creating the scent and talking about things being "too fruity" without a sense of irony, Tom reluctantly settles on the brand name 'Modern Gentlemen' and some mind-numbingly dull packaging because... I dunno, its week 11 and they obviously can't be arsed.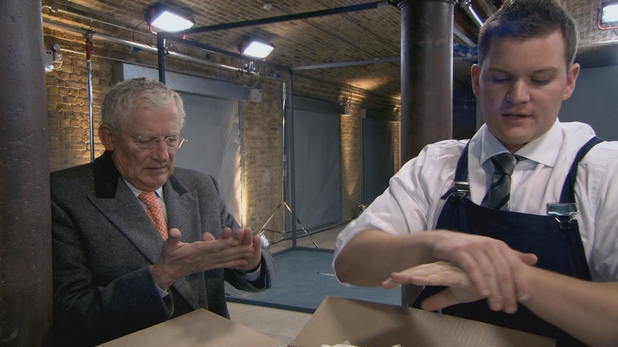 Starting as they mean to go on, Tom and Ricky later bore the heck out of all visitors to their depressingly bare pop-up store. They act more like librarians than the promoters of an exciting new brand and even Nick Hewer, the presenter of flipping
Countdown
, is calling for something more exciting than the opportunity to sniff Tom's fingers. The threat of Ricky mutilating a client in a shaving presentation just isn't enough to liven the place up.
By contrast, Phoenix's shop gets a much more enthusiastic response after the team make the groundbreaking realisation that people like both alcohol and chocolate and give away free samples of each. If they'd somehow been able to work kittens and boobs into their brand, this challenge would be over.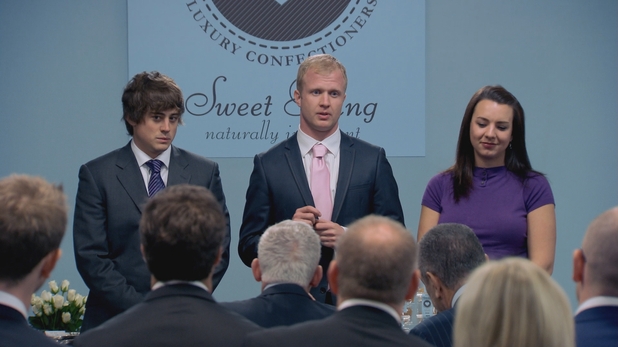 However, the team spend too much time partying and stuffing their faces to actually work on a coherent business plan. This realisation comes to Nick while snacking on his cornflakes in some kind of outdoor breakfast womb the morning of the pitch, but by then it's too little too late. They're pulled apart by industry experts and Lord Sugar himself, and a flustered Adam can only respond to their concerns by reeling off a list of days when people will conceivably buy chocolate.
Tom and Ricky on the other hand have a much clearer idea of how to launch 'Modern Gentleman', which Nick Hewer later puts down to them having "drilled each other for an hour and a half" (ooh, and indeed, 'er) about what they could be asked in the pitch. Sugar therefore hands their bland brand the win.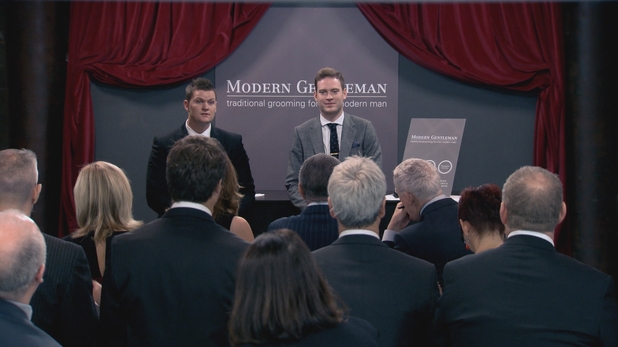 After Karren Brady and Hewer do some schoolyard-esque grassing to Lord Sugar (Sir, Nick and Adam, um, didn't have a good business model and, um, didn't come up with very good names), it soon becomes clear that the boys of Team Phoenix are the ones in danger of heading out the door.
And the sad fact is that in a battle between favourable fop Nick and Adam 'where's the trolly dollies' Corbally, this year's most entertaining candidate never stood a chance.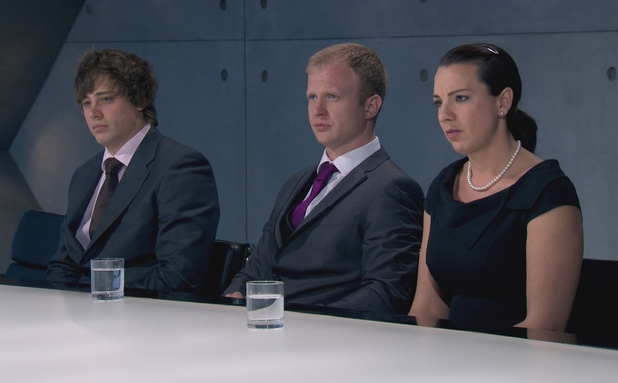 No matter how convincingly he argued that Nick is merely "good at computers" and Jade has "no special talents", Sugar was always, always going to pin the task's failure on everyone's favourite Derby market trader. Fare thee well Adam. You may have lacked "shrewdness and awareness", but no such skills are needed to win a place in our heart.
What did you think of this week's Apprentice? Should Adam have gone? Who do you want to win? Leave your comments below!