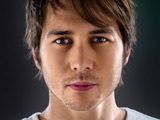 Swedish dancer
Tommy Franzén
is a part-time sports massage therapist, who learnt his trade at the David Johnson hip-hop school. He already has major movie credits to his name (
Mamma Mia!
and
Harry Potter and the Goblet of Fire
) so he shouldn't be intimidated by the first live programme this weekend. Keep reading to find out what Tommy hopes to get out of the show.
How different is SYTYCD to anything else you've done before?
"Well it is a lot different because I'm not used to having these cameras around all the time. When you rehearse, you normally rehearse on your own. It takes time to forget that the cameras are there. I have done TV shows and live shows before, but always as part of a load of dancers. I will now be at the fore, not just in the background for someone else."
Does the number of viewers watching you perform enter your head when you dance?
"Although I have heard that there was eight million on Saturday for me that was just a number. I can't really grasp that figure, five million or eight million is just a number. The real nerves come on the day from having the cameras there and performing for the judges. I am more nervous about those more immediate things."
Are you scared when you square up to Arlene and Nigel?
"We haven't met them much, but they do seem really nice. The little time we have spent with them, they have come across really well and are really lovely. I'm a little bit nervous about what they are going to say, but I was a little more stressed about that at choreography camp. As they have put me through this far, I'm not so worried anymore."
How is everybody getting along backstage?
"Really, really good. We get along well, maybe too well! A couple of people are going to be leaving on Saturday so that could be emotional. If you are chosen for a final 14 in a dance job, you are usually safe and will work together, so that is how we are working at the moment. But on this show, we are not safe, so it will probably hit us at the weekend that we are really in a competition and not working together."
What are you hoping to do after the show ends?
"I think what I'd like to get out of the show is in the future that I can work more as just Tommy Franzén the dancer. Rather than being an ensemble. I've done big jobs before, but I've always been one of many. I'd like it to be a little bit more about me the individual."
So You Think You Can Dance airs on Saturday at 7pm on BBC One