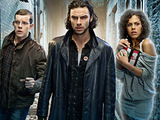 The BBC has announced an interactive online spinoff to BBC Three's supernatural drama
Being Human
.
Becoming Human
, created by
Toby Whithouse
, will follow a new group of characters in a fictional college over nine episodes.
The series will begin midway through the third series of
Being Human
, which returns to BBC Three in January 2011. Following events that unfold in the new block of episodes, vampire Adam - played by Craig Roberts - is trying to get himself back on the straight and narrow at college.
There he meets "beautiful, cool" werewolf Christa (Leila Mimmack). They strike up a friendship with Matt (John Brown) and the three new friends find themselves embroiled in a mystery.
Viewers will have the opportunity to interact with the story as it unfolds, with daily clues and materials.
Whithouse said: "Yes, because 'you' demanded it, the world of
Being Human
is expanding!
"We've got a cracking story lined up, with some terrific new characters and all the thrills and chills you can manage. I hope you enjoy watching it as much as we've enjoyed making it."
Sarah Clay, BBC Multiplatform Drama Commissioner added: "The fans of
Being Human
are incredibly active online, so we wanted to give them something they could really get their teeth into.
"The
Becoming Human
online extension doesn't just consist of nine episodes, the narrative extends beyond that with daily clues in the form of press cuttings, anonymous tips, CCTV footage, mobile phone clips… giving the online audience the chance to follow the mystery on the blog as it unfolds."
> First Look: 'Being Human' USA!