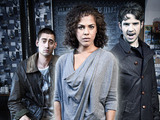 This Week...
George (Russell Tovey) is a shell of his former self, Tom (Michael Socha) is looking for a new home and Annie (
Lenora Crichlow
) is struggling to hold it all together. Meanwhile, a new band of vampires plot a terrible revenge and the three friends face the end of their life together...
The Bad Moon Arising...
Of all the places we expected 'Eve of the War' to pick up, a devastated future London wasn't one of them! Kicking off series four with a flash-forward to a world ruled by bloodthirsty vampire hordes is a bold choice - it immediately raises so many fascinating questions and puts
Being Human
on a far grander scale than we've ever seen before.
Soon enough, we're back to the present day and familiar faces - Tom McNair is doing his best to lead a normal life by working in a local café, while a traumatised George has locked himself away inside Honolulu Heights, with his unnamed baby daughter and a frantic Annie his only company.
Series three of
Being Human
ended on a grim note and, initially at least, we're on similar territory here - poor Nina (Sinead Keenan) has been beaten to death by vicious vamps off-screen and George has been driven half-mad by grief. Russell Tovey is excellent as the shell-shocked werewolf and knowing that
he's leaving the show
lends his scenes a chilling air - the viewer waits in trepidation throughout, fearing that something terrible might happen to poor George.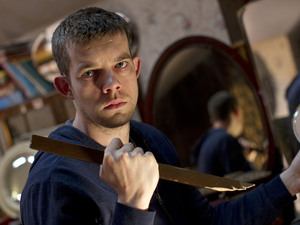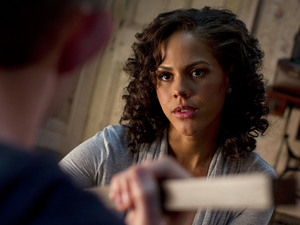 Ultimately, tragically, TV's geekiest werewolf does meet his maker. This writer initially felt a little queasy at the notion of such a loveable figure meeting such a violent and unpleasant demise, particularly given that his heroic sacrifice to save his infant child is undermined by our glimpses of the future, which indicate that Eve may not be the saviour everyone expects her to be. Still, the final scenes with ghost George are lovely - Tovey once again on top form. Rest in peace, George Sands.
While it's a shame to see Tovey go, we've got a feeling that
Being Human
is in safe hands. Lenora Crichlow excelled at the end of last year and she delivers another knockout performance here, as Annie digs deep and finds an inner strength she never knew she possessed.
Michael Socha also impressed in series three, but he really comes into his own in 'Eve of the War' and fully justifies his recent promotion to full-time cast member. He's adept at drama, but can also dish out the laughs - see Tom rather unsubtly trying to blag a room at the B&B.
And what of the dark side? Killing off Herrick (Jason Watkins) was an unfortunate necessity given Aidan Turner's departure, but it's a shame that Lee Ingleby couldn't be tempted back to reprise his role as Wyndham. Instead, we meet - and bid farewell to - new vampire boss Griffin (Alex Jennings), who, with his policeman guise and dark humour, comes off as a cut-price Herrick.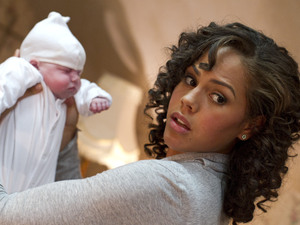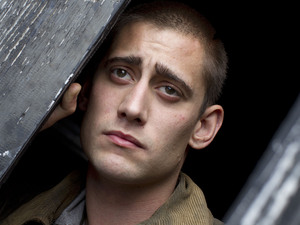 Still, the vicious Fergus and creepy Cutler ("Oh my God, that - is - human - skin!") are proof that
Being Human
can still produce memorable vampire villains, and Mark Williams is also fun as sympathetic blood-sucker Regus - we're intrigued to see where his character is headed...
Ultimately, 'Eve of the War' has to be considered a triumph. This episode has a lot to do - wrap up the loose threads of series three, set up the premise and villains of series four, write out George and Nina, and reintroduce Tom.
At times, it all feels a bit much and regrettably the introduction of Hal (Damien Molony) gets a bit lost in the mad maelstrom of storylines. Perhaps the character would have been better served if his debut had been held off until episode two? But Toby Whithouse faced a very difficult task and, for the most part, he's pulled it off with wit and style.
Emotions run high, the cast (old and new) are fantastic and there's a pleasing dollop of humour to balance out the darkness. Most importantly, the episode dispels the fear that the departure of Turner, Tovey et al. would spell the end for
Being Human
- far from it. Like Annie says, this is how it begins...
What did you make of the Being Human series four premiere? Share your thoughts below!