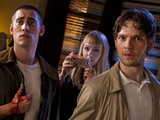 There's tough times ahead for our paranormal trio as
Being Human
continues - Regus (
Mark Williams
) pays Annie (Lenora Crichlow) a visit, with a terrible warning about baby Eve's fate, while Hal (Damien Molony) is faced with the less glamorous aspects of civilian life...
Forced to take up a position in the local cafe opposite Tom (Michael Socha), Hal finds himself severely tested. Can he resist his bloodlust? Will Annie take desperate measures to protect Eve? And which of our boys will succeed at chatting up a lady?
Being Human
continues on Sunday at 9pm on BBC Three.
> Being Human: 'The Graveyard Shift' in pictures1.
We get a glimpse of Hal's past, as lord of the Old Ones...
2.
"It's not stealing if it's a big shop."
3.
Annie's clearly learnt from the whole 'Wolf Shaped Bullet' fiasco!
4.
"You can try biting me but all you're going to get is an ice-cream headache."
5.
Hal explores the thrilling world of lettuce chopping.
6.
"I just need a minute - I feel a bit vulnerable."
7.
George, Nina and Mitchell are all mentioned.
8.
"Babbling's better than leaping."
9.
There may be a new nemesis on the horizon...
10.
"We found a dead dog… in the oven."
What do you make of our Being Human teasers? Let us know below!