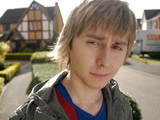 Will, Simon, Neil and Jay return tonight on E4 in the best foul-mouthed teen sitcom of all time
The Inbetweeners
. The second series begins with the filthy foursome going hunting for the
"legendary Swanage MILF"
on a college field trip, on the request of Jay. In tribute to the crude and lewd antics,
DS
has created its very own
Inbetweeners
drinking game. So, in the inimitable words of Jay, "just buy some drinks and wait for the g*sh to form an orderly queue!"
Rule One
- Every time Jay utters the words "cl*nge", "g*sh", "sp*nk", "b*ll-*nd" or the phrase "up to the b*lls", down a shot.
Rule Two
- Every time Jay utters a phrase for the female anatomy or his own genitalia that you have never heard used before, down another shot.
Rule Three
- Each time someone refers to Neil's dad being gay, polish off a glass of wine.
Rule Four
- Crack into the vodka whenever there's any gag about bodily fluids.
Rule Five
- Drink a double when the phrases "humping" or "porking" are used to refer to sexual intercourse.
Rule Six
- Drink a can of cheap cider every time the boys attempt to get served for alcohol, "pull some birds" or end up rubbing up headteacher Mr Gilbert the wrong way.
Rule Seven
- If Will ends up tied up, bullied or gagged and bound in an unusual manner then have two fingers of your favourite tipple.
Rule Eight
- If Jay tells a tall story and ends it with the word "fact", crack into the whiskey. eg. "It's the Camber Sands meeting this weekend, which is always a massive orgy!" "Guess who just got a blowie behind the decks!"
Rule Nine
- At any point Simon looks dewy-eyed about a member of the female sex, chug a pint of Stella.
Rule Ten
- If there's any reference to Simon, Jay or Neil wanting to have sex with Will's mum, knock back any remaining drinks.
This feature is intended to entertain only. Digital Spy does not advocate binge drinking.