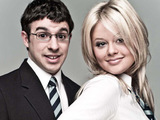 Series three of
The Inbetweeners
premiered to more than 2.2 million viewers on Monday night, according to the latest audience data.
The comedy averaged 2.25m (10.9%) on E4 between 10pm and 10.30pm, which was the evening's biggest multichannel audience by some margin. A further 327k (2.9%) watched the programme on E4 +1.
Bouquet Of Barbed Wire
pulled in 4.32m (17.6%) on ITV1 from 9pm, down 760k on its debut episode last week. An additional 136k (0.6%) watched on ITV1 HD.
The drama was just outperformed in the 9pm hour by
Who Do You Think You Are?
after actor Alan Cumming's appearance on the genealogy programme took 4.65m (18.9%) on BBC One.
Earlier on ITV1,
Countrywise
pulled in 3.7m (15%) from 7.30pm and 117k (0.5%) on ITV1 HD.
The One Show
was watched by 4.67m (22.6%) on BBC One from 7pm, before
Saints And Scroungers
grabbed 3.95m (17.5%).
Panorama
averaged 2.76m (11.3%) for BBC One from 8.30pm.
Over on BBC Two,
The Art Of World War Two: A Culture Show Special
appealed to 890k (4.1%) in the 7pm hour.
University Challenge
and
Antiques Master
secured respective audiences of 2.44m (9.9%) and 2m (8.2%) on BBC Two in the 8pm hour.
Dragons' Den
pulled in 2.5m (10.2%) from 9pm, before a new episode of Simon Amstell's sitcom
Grandma's House
averaged 770k (3.7%) from 10pm.
Documentary
The Trouble With The Pope
mustered 820k (3.3%) on Channel 4 in the 8pm hour and 51k (0.2%) on Channel 4 +1. The programme was followed by
My Family's Crazy Gap Year
, which took 1.29m (5.2%) and 103k (0.6%) on timeshift.
Jamie's American Food Revolution
was watched by 1.72m (9.1%) on Channel 4 from 10pm and 183k (1.8%) on Channel 4 +1.
Over at Five,
How Do They Do It?
attracted 597k (2.6%) between 7.30pm and 8pm, before
The Gadget Show
averaged 1.15m (4.7%) in the 8pm hour. A screening of
Swordfish
pulled in 1.07m (5%) between 9pm and 11.15pm.
Overall, ITV1 won primetime with 22.5% (HD: 0.6%) against BBC One's 20.7%. BBC Two came in third with 7%, followed by Channel 4 with 5.1% (+1: 0.5%) and Five with 4.2%.
Elsewhere, new BBC Three sitcom
Him & Her
brought in 681k (4.2%) between 10.30pm and 11pm.
BARB ratings data supplied by Attentional