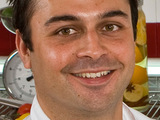 John Torode and Gregg Wallace have revealed the winner of the 2010 series of
MasterChef
.
The show's judges crowned 34-year-old Dhruv Baker from Cambridge the winner after last night's final challenges. Baker beat food writer
Alex Rushmer
and children's doctor Tim Kinnaird to the title. On last night's show, the three finalists travelled to three of Europe's finest Michelin starred restaurants in France, Italy and Holland to cook dishes at the highest level.
For their final challenge, they returned to
MasterChef
HQ to serve up one last three-course meal.
Speaking about his victory, Baker told
DS
: "It was amazing. It took a few seconds to register. I think my initial reaction was, 'Did I hear that right?' All those weeks and months of hardwork and effort were suddenly paying off.
"To have them all packed into that one tiny moment was unbelievable. It was almost too much to process then and there really."
He joked: "It is very much a relief to finally talk to people about it. We had to keep it totally under wraps. I told friends that I was on jury service and things like that. People were starting to write me and my wife off as rubbish friends because we hadn't spoken to anyone for such a long time.
"So, yeah, at last I can speak about it and it feels wonderful."
Previous
MasterChef
winners have included Thomasina Miers, who runs the Wahaca restaurant chain, James Nathan, who now works for Rick Stein, and The Wild Garlic owner Mat Follas.
> Click here for our interview with MasterChef winner Dhruv Baker