7
Reality TV Interview
Polly Oxby ('MasterChef')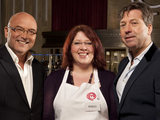 On tonight's
MasterChef
the final nine were challenged to cook under some of London's top chefs for paying customers and were then pushed to their limits by Michelin star legend Alexis Gauthier in an all-new blind invention test. At the end of the episode, John Torode and Gregg Wallace decided that it was the end of the road for full-time mum
Polly Oxby
and she was forced to hand back her
MasterChef
apron. We spoke to Polly to find out about her
MC
experience.
How did it feel when you were stood there and Gregg and John said you would be leaving?
"I was very upset. I was gutted that the whole experience had come to an end. I'd always known that I wasn't the strongest cook in that room, so I felt very, very lucky and fortunate to have got as far as I did. When I found out that I was leaving, I was more than happy to stand aside and I totally agree with John and Gregg's decision. I was just sad that the experience had come to an end."
What professional experience or training did you have before the show?
"None, nothing at all. Like all the people in that room, I was just a good home cook, who had a real passion for food. I had no real experience at all and I just applied for
MasterChef
, not expecting a response, but just because I could then say I had done it and not have any regrets. But then they ring you and I didn't have any idea what I was getting myself into at that point! I had no proper experience, I was taught everything by my mum and my granny."
You were an expert at puddings. Is that your food passion?
"I love baking. I love baking and pastries - they are what I really love doing. They were the first things I started doing when I was 4 and I suppose that is where my true heart lies. I love all cooking, but that would my ideal emphasis."
What were John and Gregg like to cook for? Are they intimidating?
"They are just so encouraging. And I really felt for them actually this year. Because of the new format, they have less chefs and a longer amount of time with each person, so they really get to establish a connection with us. They can clearly pick up the vibes on how much everyone wants this, so for them to have to turn around and end it and say, 'You're the one going', must be really hard. But I found them nothing but encouraging, supportive, generous and lovely."
How hard was the challenge with Alexis this week?
"Oh, goodness gracious me. That highlighted every weak spot that I have. I'm not instantly creative; I don't have a huge back catalogue of genius ideas to call upon. So to think up something in an hour with the ingredients that I had landed, it was really difficult. So I went back to type and went plain and simple British, but I knew when I was cooking it that it wasn't the best dish. I had nothing left to give really. I just thought I'd make something simple and make it really nice, but I made the same mistake twice, played it too safe and that was my undoing. I just found it really difficult to be inventive."
How well did all the contestants get on and bond on the show?
"We bonded so much. That's what I loved about the whole thing, the camaraderie between the final ten. Having gone to Scotland, we spent a lot of time together, got on really well and bonded as a group. Naturally we have this passion for food, so that's what we talked about. Although that is a funny thing because although we were friendly, there was still in the back of your mind the idea that this was a competition. You don't really want to give all your secrets away. If I did have a great recipe idea I wasn't going to tell everyone and let go of it! We talked about cooking, but not what we would cook in the next round."
Is the plan still to go into the world of private dining?
"Absolutely that is still the plan. I'm trying not to rush headfirst into anything because
MasterChef
has been such a whirlwind experience; I don't want to put myself under too much pressure. Having said all that, I have a husband, I am a full-time mum, so private dining fits in beautifully with that and I am looking at all opportunities that come my way to get into that."
Who do you think will win the series?
"Of course I love them all, but from a professional culinary point of view, my money would be on Tom. He has just the right amount of quirky without being off the wall. He does some amazing stuff and I think if you cut him in half it would say 'food' down the middle. It's in his blood and I have a great feeling about him. John keeps picking up on his messiness, but he can work on that easily and it's not a fundamental issue. Mad scientists can be messy, but they can still do their job. My money is on Tom."
MasterChef
continues next Wednesday at 9pm on BBC One.
Was Polly the right cook to leave? Leave your opinions in the box below!