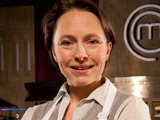 After cooking for 150 Oxford students - and then being judged by Michel Roux Jr. - it was time for Annie to say goodbye on tonight's
MasterChef
. The mother and administrator just missed out on reaching the top five, so we gave her a ring to find out how she's feeling and whether she wants to pursue a culinary career...
How are you feeling about being eliminated?
"Devastated, really! I don't think there's any other word for it. It was quite the most awful, awful thing. I was loving being part of the
MasterChef
competition so much and the last thing I wanted was to leave it."
Were you shocked to hear you'd be leaving the competition?
"Yeah, it was a huge shock. Obviously I knew that I hadn't performed particularly well in that challenge and the two dishes I'd produced as part of that invention test were not up to the standard - there's no getting away from that - but up until then I hadn't had any really great disasters so I was feeling relatively confident that I could make it a little bit further in the competition."
Do you think it was the right time for you to go?
"I don't think my time had come to a natural end. I think that I was capable of getting further in the competition. But on that day I did not do enough to stay in. I wasn't unfairly treated, because on that day I did not perform as well as I should have done and the others did better. It's as simple as that. But I think I was unlucky with the timing of my disaster - everyone on the show has disasters but in some cases they manage to live through it because they were given another chance through a cookoff or perhaps it wasn't one of the events that led directly to eviction. When it got down to only six of us it got to the stage where it's one mistake and you're out."
How far did you think you'd get when you entered the competition?
"I had no expectations at all of getting as far as I did. If people had said to me I'd make the final six I'd have been amazed and thrilled and thought that was the best thing possible. But once you get involved in something like this, your expectations and ambitions start growing. The further I got in the competition, the further I wanted to go. I'd think, 'Ten sounds like a really good number, if I could just get into the final ten', then when I was in the ten I'd think, 'Ooh, nine sounds even better'. At no point do you think, 'That's it, I've done enough, I don't mind if I go home'. Everybody minded so much - it had completely consumed our lives. It was all that any of us thought about day to day."
There have been lots of tears this series...
"It was massively emotional. I didn't cry but I think I was the unusual one! The pressure was extremely intense, and as I said, it came to mean so much to each of us. It probably seems ridiculous looking at it from the outside - I don't think you can understand unless you're in that bubble just how important it becomes and the thought of leaving it and messing it up and letting yourself down is really hideous. And I did - I did mess it up, I did let myself down and I just regret that hour and a half so much. I've recooked those dishes in my head 100 times and I keep imagining what I might have done differently. There are many things I should have done differently!"
What were your favourite dishes that you made?
"I loved the sea bream dish in my audition - it's one of my old favourites so I knew I could rely on it. The orange and pomegranate cake has become a bit of a signature dish for me! I cooked it to be auctioned at my school to raise money and things like that, which is great. I love the fact that it took everybody by surprise because John and Gregg were a bit anxious that I was just producing cake and ice cream and suggested that was more suitable for a children's party than
MasterChef
. I had to hold my nerve and keep going in the belief that this is a very special cake and it proved to be, so that was a highlight. I think my beetroot trio at the circus was great. The one I was most proud of was the one I cooked for Alexis Gauthier in the sensory round - the other ones I've mentioned are ones that I was able to prepare at home and I knew very well. The biggest challenge for me was always going to be the invention test... And in the Alexis round I produced some really nice food and I was really proud of that because that was very far out of my comfort zone. Sorry, I've given you four favourite dishes!"
What was it like being around John and Gregg?
"John and Gregg were brilliant. They were incredibly supportive. The lovely thing about the whole
MasterChef
team is that they want you to succeed, they want you to learn as much as you can and John and Gregg were really central to that. John would always be wandering around during the cooking and if he saw something he wasn't sure about he'd ask us about it, he might suggest an alternative or give us a hint. It was lovely to feel that they were on our side rather than purely there to analyse us and judge us and say nasty things about us. And when they do deliver bad news they do it in such a nice way and you know they're never being unfair or unreasonable. They were marvellous and I really enjoyed working with them."
What was it like being judged by Michel Roux Jr.?
"Terrible! I think you can hear me say when they announce him, 'Gosh, of all the days'. Because I knew that I hadn't come up to scratch on that day and I knew it was going to be a bit of a shocker for me. I was just really disappointed because I really respect Michel, I think he's an incredible chef, and I would have loved to impress him with something really fantastic. And as it was, the only thing he's ever seen me cook was a bit of a disaster, so obviously he won't have gone away with a very good impression of me!"
Did you enjoy cooking in Oxford?
"That was amazing, I absolutely loved it. I really enjoyed working with Tim. It was on a scale I don't think either of us had ever worked before, and there was a huge amount to achieve in such a short time. The head chef there was brilliant - she really wanted us to do well... And she didn't lose her patience when we were being a bit slow or stupid about something! I loved the dish that we cooked, and working with Tim was great fun - we worked together as a team, neither one of us was trying to take charge and boss the other one around. That number of plates I could never have imagined - the volume of it was mind-blowing. But it gave us such a feeling of amazing satisfaction at the end. At each stage people came to help - it was a lovely feeling of everyone mucking in together and getting the job done. That really surprised me about
MasterChef
, that level of camaraderie within the group. Of course we were competing against each other but there was a lovely feeling of support amongst all of us. I made some really good friends."
Do you want to continue with a cooking career?
"I definitely want to do something food-related. I've never pretended that I want to work in a restaurant purely because it simply doesn't fit with family life. I'd love to do the odd bit of work experience in a kitchen, because now I understand how much you can learn. But really what I want to do is write about food, write about ingredients, producers as well as about cooking and recipes, with an emphasis on using seasonal, local ingredients and cooking really good wholesome, delicious food for your family as well as for special occasions. So my absolute dream would be to have a column in a magazine or newspaper."
Who do you think will win the competition?
"I don't know! I really don't know who's going to win and I don't really want to speculate. I reckon it's between two people but I'm not going to say who. Sorry, that's really annoying, but they're all friends of mine and I don't want to annoy anyone!"
MasterChef
continues on Wednesday at 9pm on BBC One and the accompanying cookbook
MasterChef At Home
is out now (DK £20).
Do you think Annie should have been eliminated? Are you enjoying MasterChef? Leave your comments below!