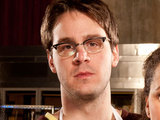 Over 7 million people watched American
Tim Anderson
crowned
MasterChef
champion last night. His natural flair in the kitchen and passion for unusual flavours won over judges John Torode and Gregg Wallace in the closest ever final in the show's history. We caught up with Tim this morning to find out if his victory has sunk in yet.
When did it eventually sink in that you had won?
"It was a long process of sinking in. For weeks it just felt surreal. I was really in disbelief and I was beside myself, because it just felt incredible. It was actually when people started seeing me in the street and asked about my progress that it started to sink in. I had to keep it a secret and couldn't just say I'd won, so that drove the point home for me. 'Actually I did win, but I'm not allowed to talk about it'."
Why did you feel so convinced that Tom or Sara would win?
"I don't know. I suppose I had always just focused on doing my dishes and I never felt like anything was quite perfect. Plus, Sara and Tom, their dishes were really incredible and they still wow me. I thought, up against those two, I didn't have a chance. Looking back over it now, I can see a little bit that it was anyone's game in the end. And I managed to pull it off, I guess."
John was amazed that you found the time to cook that final meal. How did you pull it all off?
"Practice. I practiced that hard. Which wasn't true for a lot of my meals. Sometimes I had only done the dish once and sometimes not at all. But I didn't take any chances with that one. I knew I would be up against it, so I gave myself four days, did one dish one day, one dish the next and then on the final day did all three together in three hours. I did it and that was it really. It was just a matter of knowing my strategy and understanding what came next in the process at any time."
Was there anything wrong with your final meal that John & Gregg didn't pick up on?
"Yeah, there were little things. I think the balance in my broth was wrong. I think I could have used a little more pork. There was too much matcha in the Toyko slider. And with the cheesecake I think the flavour was right, but I'd have put a little bit more effort into the presentation."
You had a few disasters along the way in professional kitchens and the soufflé explosion in Australia. Did you ever think, 'it's all over'?
"Oh yeah. That's another reason, I thought it would be Tom or Sara. In Australia, I had a disaster at the very worst time. Cooking with John was great, he was a great coach, but it was also really terrifying as it was so important to him as well. When those soufflés went to pot, I just thought, 'This is it for me, it's over'."
Do you mind being tagged as a 'nutty professor' in the kitchen?
"I don't mind the professor label, but I'm not as into the scientific side of cooking as my reputation suggests. I'm into it and I think you can learn a lot from the chemical processes and scientific principles of cookery. But I'm not into using them in the way a Heston Blumenthal would. I find them interesting and use them here and there, but it's not at the core of the way I cook. What really excites me are the flavour combinations and unusual flavour combinations."
What do you eat when you're being lazy at home?
"Eggs. Eggs on toast. I love eggs. Just a hunk of cheese. A hunk of cheese and a pint of beer. I love that."
Gregg always needed convincing about you in the competition. What was it like to see his face light up with that final plate of puddings?
"It was a great thrill. I made them for him. I had him in mind when I devised those dishes, so for him to really like them was a great thrill. It could have gone either way. He could have said, 'Why screw with the classics?'. But he really got it and really understood them and that was a great moment for me."
What's the big career ambition for you in the long-run?
"The big ambition is to have a few restaurants. My passions are beer and regional Japanese food. So to open up a few restaurants based around those ideas that is the long term goal."
What's the reaction been like in the street so far?
"People are really supportive. A lot of time it doesn't go any further than people shouting, 'MasterChef' at me, but I've had some really lovely comments. One thing that I'm thrilled about is that some people say that I've inspired them to cook. I never expected that and it's really, really nice. It's touching."
Tim Anderson will appear at the
MasterChef
Experience at the Summer Good Food Show in Birmingham on June 15 to June 19. For more details visit www.MasterChefLiveEvents.com.
Was Tim the right winner? Share your views below?