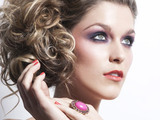 Charlotte Holmes
has become the latest contestant to be voted off
Britain's Next Top Model
.
The 21-year-old former Miss Cornwall missed out on a spot in the top three after a second week of challenges in Malaysia.
Her exit came as a shock after judge Julien Macdonald praised her latest shoot performance, describing her last batch of photographs as "absolutely gorgeous".
"I love Charlotte in this picture and she looks like beauty in paradise," said the Welsh designer.
Explaining the judges' decision to axe her from the competition, a tearful Elle Macpherson said: "You did a great job. You really did. And you are going to do some much more in your life. I see so much potential."
Speaking afterwards about her departure, Holmes said: "I always said that I would come in here and do the best I could. And I have, I've enjoyed every second. I've done the best I can. It's just emotional because I've put so much into something and I haven't quite got what I wanted. I'm just going to keep pushing forward."
She added: "I'm not sure who is going to win. I just think they all need to work really hard because they are here now in the final.
"Sod the feet hurting, sod the mosquito bites, the late nights and early mornings. You are in the final, smile about it and be happy about it... because I'd die to be there."
Alisha White, Tiffany Pisani and Joy McLaren are the three remaining girls in with a chance of winning the competition.
Britain's Next Top Model
continues next Monday at 9pm on Living.