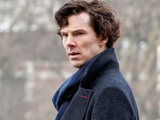 Sure, Christmas might be over, but that doesn't mean there can't still be presents in your life! Take BBC One, for example, who might as well have wrapped this beautiful new drama trailer up in a big bow.
Yes, the nights may still be cold with no hint of a mince pie to get you through, but you can rely on TV in these dark months to keep you going! And BBC One's promo has got us very excited indeed - we're already stockpiling blankets and Hobnobs.
Whether you're eagerly anticipating the return of
Sherlock
and
Upstairs Downstairs
or excited about the upcoming adaptation of Sebastian Faulkes's novel
Birdsong
, there'll be something for you to peruse in the video.
There are also sneaky peeks at new ensemble drama
Prisoners' Wives
(yes, the clue's in the title) and 1950s-set series
Call The Midwife
(starring, among others, Jenny Agutter and
Miranda Hart
!).
In other words, there's no point braving the wind, rain and chill outside - grab a cuppa and prepare for some rather fabulous TV!
Watch BBC One's new drama trailer - Original British Drama Starts Here on BBC One - below!
The shows featured in the trailer are due to begin on BBC One in January.