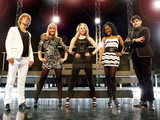 Fans are being given the chance to name the
Don't Stop Believing
Supergroup.
The song and dance collective, who are adding five new members to their ranks every week the show airs, currently do not have a title.
Five has launched a competition to name the collective, who will end up with 30 members, with winners landing tickets to the final of the reality show and a chance to meet the group.
Early suggestions for the group's name on the show's Facebook page include We Are One, Energy, UK Believers, Bionic Style, Keep Your Dream Alive, One Heart and Simply Believe.
Don't Stop Believing
airs at 5.45pm on Sunday on Five.
> 'X Factor' sisters join 'Don't Stop' Supergroup