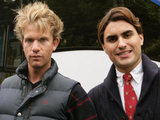 Celebrity Coach Trip
kicks off with a bang next week when reality TV poshos Ben Duncan and
Raef Bjayou
arrive fashionably late on the trip, a whole 24 hours after all their fellow passengers. We caught up with our favourite ever
Apprentice
candidate Raef mid-journey to get all the gossip on the show and also discuss his rather barmy plans for a new TV series of his own.
Are you enjoying yourself on the trip?
"It's absolutely brilliant. I'm here with my comrade-in-arms, Ben from Big Brother 11. Coaches aren't necessarily the first thing that you think about when you think of Ben and Raef, but we're having the time of our lives! It's absolutely brilliant. I can suddenly understand why those older generations go on Saga holidays. It's brilliant. You get to see some really interesting places and eventually stop off at the end of the day to your generally nice hotel and then start again in the morning. I think Ben's found it a bit of a struggle to get out of bed in the morning very early but we saw that on Big Brother. He doesn't like very early starts, but luckily here there aren't things like tilting beds and people trying to take his cover off him in the middle of the night."
Not yet, anyway...
"Not from me anyway! I don't know what goes on in his bedroom because we're in separate rooms, so we'll have to leave what goes on in Ben's room to our imagination I think!"
Are you getting on well with everyone on Coach Trip?
"You start off and you try and do as best a job as you can at just being yourself and just getting on with people but I think there are certain people that are just naturally your kind of people. We've got the Chuckle Brothers, who I'm just in awe of. I told my mother - forget about her dear son who's doing the show - I think I was almost close to phoning the paramedics she was in such hysteria, because she loves the Chuckle Brothers as well. I just remember them from my youth and they're really bizarre because they're cult icons. In fact, after this whole
Coach Trip
business I think Ben and I are going to petition for their knighthood. Just like Bruce Forsyth not being knighted, I think it's an absolute travesty. 47 years in the industry and no letters before or after their names to show for it!"
So they lived up to your expectations?
"Yeah - they're masters of their craft, which is slapstick comedy. They're brilliant. They don't necessarily say a lot but I don't think they're meant to. I think everything they're meant to say comes through their facial expression and physical humour."
You mentioned you don't think of Ben and Raef when you think of coach trips - why did you want to do it?
"I don't think it's necessarily the way that the public would assume that we'd like to travel. The majority of individuals these days travel by plane. Coaches seem to have a slightly negative connotation, but like I said, after having done a few days of
Coach Trip
I'm a real convert. I'm going to buy myself a coach and get someone to drive it for me."
Would you take Brendan along with you as well?
"Brendan! I mean, Brendan is a true pro - a real scholarly, gentleman tour guide. Just a really, really brilliant guy. I mean, I hadn't seen the show before but I understand it has this cultish following and I think this will really satisfy the viewers' want for a different kind of version of
Coach Trip
. I think it's going to be absolutely brilliant, hilarious and entertaining."
You've been so busy recently - have you got anything else coming up?
"We've done
Party Wars
, we're in a farm now filming
Coach Trip
. Like the Chuckle Brothers, I've done a bit of acting for kids' TV on something on CBBC called
MI: High
, which Raef's been doing a bit of acting in. It's all been rather lovely. Obviously I come from the world of business so I'm still doing all my business stuff - property portfolios, pharmaceutical distribution companies and investing in startups - whilst also doing the media stuff. I've got on so well with Ben - he was a friend of mine before, but we've been getting on so well that we just turned to each other and said, 'God, we'd love to do something together'. I've got this eccentric idea that I'm going to do with or without the cameras in front of me - working title
Raef In Reverse
- where I basically go from the West Coast to the East Coast of America in a car going backwards, which will get us in the Guinness Book of Records and will also be illegal in a lot of the States. So we'll have run-ins with the law. And also we pick up a random from each state and release them at the border line of each state. So we're pitching that travelogue to a couple of execs - it probably won't get off the ground very soon. But we'll keep that one between me and you. I had someone I wanted to do that with but after doing this, Ben would be perfect. So I think I've hired somebody."
You're going to have to keep me updated on that one!
"I will do, absolutely. I'll keep you updated with regard to that absolutely mad idea. We're definitely going to do some more things together, whether it's
Raef In Reverse
or going to weird and wacky places around the world. Watch out for Ben and Raef, Raef and Ben! I'll let you know if there's any stuff brewing in the old televisual cauldron."
Celebrity Coach Trip starts on Monday at 5.30pm on Channel 4