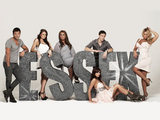 The future of ITV2 reality show
The Only Way Is Essex
has reportedly been threatened after fears that local gangs are putting the cast in danger.
The news comes after star
Mark Wright
's bar, co-owned by Jack Tweed, was subject to an
arson attack
just hours after the show filmed a Halloween party at the venue.
The
Daily Star Sunday
claims that sources believe the attack was carried out by jealous enemies, while others have suggested that the fire was started by "gangland figures" demanding protection money.
Wright said: "We've never had to pay protection cash to anyone. I honestly haven't got a clue why it happened... but I certainly won't be quitting the show over it. We'll come back stronger and do the [bar] launch again next week."
A source close to producers Lime Pictures told the paper: "This is being taken very seriously. Obviously someone could have been gravely injured or even killed in this attack. Bosses were shocked.
"It's a very popular show and it would be a massive shame to cut it with just three episodes to film but the safety of the cast is paramount."