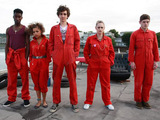 Misfits
creator
Howard Overman
has revealed details of the show's upcoming second series.
He told
SFX
that unresolved storylines from the first series will be wrapped up early on in the new run.
"The probation workers' murder is [solved] in the first episode, and there's a big new serial arc, involving a mystery superhero character," claimed Overman.
The writer added that the introduction of the enigmatic Superhoodie will subtly alter the style of the second series.
"With the introduction of this superhero character, I guess we've gone a little more genre than the first series, because he is an out-and-out superhero," he explained. "There are questions about who he is, what he's doing and his effect on our core characters."
Misfits
is expected to return to E4 in November.