Cult News
Jonathan Ross to pen 'Misfits' episode?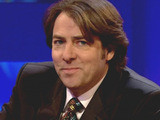 Misfits
creator
Howard Overman
has revealed that Jonathan Ross wants to write an episode of the show.
Speaking at the launch of the second series last night, Overman explained that he currently writes all of the episodes by himself.
"We tried to use other writers on the first series but it didn't really work out," he said. "I'd love other people to come on because writing a whole series on your own is hard work."
Talking to Ross, who was hosting the event, he said: "We're looking at other writers. You pitched me a good idea and we're kind of hoping you'll come on and do it."
Ross joked: "You're just using me to get to my wife [Jane Goldman], we all know that!"
Overman also revealed that he would consider producing a comic book series of
Misfits
, joking: "After [Ross] explained how much money there was in it! Jonathan was outlining to me the economics... It's something we haven't really explored. It could be a good breeding ground [for new talent] because we do struggle to find writers for the show."
The second series of
Misfits
begins on November 11 at 10pm on E4.