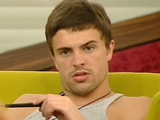 A dark cloud seemed to be hanging over Dale tonight following Jennifer's departure.
Mikey was the first to ask the 21-year-old if he was alright, to which Dale responded: "Not really, like."
Kat said she knew he would be fine, despite how low he must be feeling at the moment.
Lisa mentioned to Mikey that both Dale and Stu would be upset, while Dale predicted that Jen's interview would have been cut short because of the new arrivals.
When the three new housemates were taken on a tour of their new home, Dale confided in Rebecca that he was upset.
She said she was sad about Jen's departure and excited about the new people all at the same time.
"Look at my dirty bra, that will cheer you up. How minging it is," she said.
Dale said he felt stupid for getting upset and the pair resolved to go and speak to the new housemates.