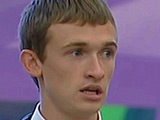 Luke is worried that he could be branded a "love rat" in the press after revealing that he had a secret girlfriend for two months before entering the house.
Talking to Rebecca, Sara and Stuart in Hell's bedroom this evening, he admitted that he had even introduced her to his parents, but had not told her he was joining the show.
Bex said his parents would have been sitting happily with his girlfriend when they saw her kiss him on television. "Boom! It all kicks off!" she said.
"They don't know her that much," he insisted. "Just met once or twice. It's not as if I was dating her for two years - we'd been to Pizza Hut a few times!"
"That's enough for the papers, going to Pizza Hut," warned Mikey, sparking a paranoid Luke to worry about the headlines he will receive.
"I don't think I'm gonna get hammered in the press for that," said Luke. "If anything they'll hate you, Rebecca, not me."
As the group mocked his panic at being branded a "love rat", he reassured himself that nobody would want to read about it anyway.
"The story would be very dull unless she lied through her teeth," he said. "I think the press have got bigger fish to fry."