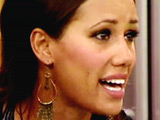 Noirin has told Isaac that she needs him because he makes her life straightforward.
The couple were keeping each other company in the bedroom when they started discussing the shopping list.
Isaac said: "Here's what I'm thinking, we've got ten bucks between us right? You get whatever food you want. I don't give a fuck. I'll eat dog food, I don't care. We'll get one token for your hair straighteners and one token for alcohol, okay?"
"Deal," agreed Noirin.
"See how easy that is?" commented Isaac.
"You always make things easier, that's why I need you," replied Noirin.
"I'm so happy you're here," she added.