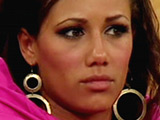 Retail manager
Noirin Kelly
became the seventh housemate to be
evicted
from Big Brother 10 on Day 58.
The Dubliner lost out to Marcus in the public vote, after being put up for eviction by Charlie, David, Lisa, Marcus and Rodrigo.
Noirin was embroiled at the centre of most dramas in the house, with numerous romantic suitors, both male and female, chasing her attention.
On Day 1, she
joined
Rodrigo in becoming one of the first official housemates, by allowing him to shave her eyebrows and draw a moustache and glasses on her face with a marker pen. Afterwards, the pair were allowed into the bedroom with some luxury champagne, but Noirin was informed that she would have to keep applying her drawn-on glasses and moustache every morning until Big Brother told her otherwise.
During her early days in the compound, the former All Ireland Athletics champion remained on the outskirts of the house activities, but she did open up a discussion about
masturbation
, where she revealed that she hadn't had sex for six months. Meanwhile, she also teased Marcus and Siavash with the information that
her nipples
were big enough to balance coat hangers off. She then gave Lisa a peak underneath her top to prove it.
On Day 11, she sparked the first major row in the house, when she contemplated going on
hunger
strike unless Big Brother allowed her to stop drawing on her moustache and glasses. Halfwit and Angel said that they would support her in any campaign, but Lisa was angered by the hunger strike proposal. Marcus then accused Lisa of bullying the other housemates.
Sree
declared his "love" for Noirin as early as Day 13 and he continued to pursue her on and off until he was evicted in Week 5. "Your inner beauty is platinum, and your laugh makes the sun shine. What I'm going to say, you keep to yourself. I'm in love with you," he told her. Marcus and Kris also commented on the Dubliner's looks, pert
bottom
and sexiness early on in the series.
Noirin and Sree remained close friends for a brief period, but she then began to complain that he was
smothering
her with attention. She developed a bond with Marcus and the pair would often pretend to
flirt
in an attempt to annoy and put off Sree from making further romantic advances.
As Sree and Noirin's relationship in the house
soured
, she grew closer to Marcus, even
hinting
in a conversation with Lisa that she would consider kissing him. Meanwhile, Angel also revealed in the Diary Room that she had
"deep feelings"
for Noirin and later admitted that she was impressed by a drunken kiss that she had with the 25-year-old. When she discovered that Noirin was one of the housemates who voted her out of the house in week four, she described it as being like getting
"stabbed in the heart"
.
Noirin's continuing dominant role in the house was highlighted when she became a team captain in the sports day task. Noirin's team won the challenge and they were joined by referee Marcus at a school disco party.
Lisa became the latest housemate to show an interest in Noirin on Day 30, when she admitted that she would be open to the idea of a
sexual relationship
with the Dubliner if she fancied it. She also warned Noirin against getting any closer to Marcus in the house. Meanwhile, Sree insisted that Marcus had no chance of wooing the Irish housemate when he was evicted.
She attempted to cool her relationship with Marcus and held several discussions with him about their friendship status, and
apologised
for flirting and leading him on to believe they could ever become a couple. However, her comments failed to deter Marcus, who told her on
Day 39
that he still believed he could win her over into a more serious relationship.
Noirin was at the centre of her
second major row
on Day 36, when she was informed by Siavash that some of the housemates were describing her as a "rabbit" going between the different groups in the compound. She confronted Kris and Karly about the comments, but they denied ever making the remarks. Siavash claimed that he never mentioned Kris and Karly directly, and insisted that he never intended to stir, but then Noirin was angered further, arguing that he should stand by his earlier comments. After the row died down, Noirin expressed feelings of paranoia and
claimed
that she didn't have any real friends on the show.
On
Day 40
, Noirin was put up for eviction for the first time alongside Karly, Siavash and Dogface. She would survive the public vote, with Karly chosen for the boot instead.
When Tom joined the house, many of the contestants speculated that he might prove a rival to Marcus for Noirin's attention. However, she
ruled out
anything happening with the chartered surveyor, describing him as a "player". However, her feelings for Tom were never fully clear, with Bea hinting on occasions that she had held discussions with Noirin about her fancying him.
On Day 51,
Siavash
became the latest housemate to begin wooing Noirin, despite him having a girlfriend on the outside. They
shared a kiss
when Marcus was in prison as punishment for breaking house rules. Their fling came as a surprise to the majority of the housemates, who claimed that they hadn't seen it coming. Marcus reacted angrily and isolated himself from the pair, who had been his best friends up until that point. Freddie, Rodrigo and Bea all expressed
scepticism
at her relationship with Siavash.
On
Day 55
, Marcus and Noirin were both put up for eviction and the Dubliner began
expressing concerns
at how her various romances may be portrayed to the outside world. However, romantic relations became even more complex for her on
Day 56
when she was shocked by the arrival of her ex-lover Isaac.
Noirin instantly aligned herself with her former American boyfriend and dumped Siavash. Her behaviour to the Iranian-born events organiser prompted criticism from her rival contestants, but she insisted that she was
"in love"
with Isaac. Unhappy with how he had been treated,
Siavash
told Noirin that she should leave the house. Bea also confronted her about her behaviour during the week, which sparked a
furious row
between the pair. "You get into other people's business all the time because you're just a nosy little cow, so f**k off," Noirin told the 24-year-old recruitment consultant.