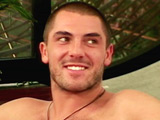 Noirin Kelly has confirmed that she wants to start a family with fellow Big Brother contestant
Isaac Stout
.
The 25-year-old, who was joined by ex-boyfriend Stout inside the house, claimed that she loved the American "to bits".
"He was going to apparently ask me [to marry him] before I kissed Siavash," she told
DS
. "I would say yes if he did ask, because I love him to bits. He's the best thing ever.
"When he says he's going to do something, he always does something. He is always right about everything as well. I will be more than happy to move to America with him."
She added: "All I want is to be married and have babies with him... he's shaking his head right now, so maybe that wasn't the right thing to say!"
Noirin also admitted that she regretted kissing Siavash, describing him as just "a nice guy" who helped relieve her boredom in the house.
"I didn't know how Isaac felt about me before I went in the house," she added. "When I went on the show I was single, that was all I knew. I liked Siavash and fancied Siavash, but the moment Isaac came in and told me he wanted me back, I really wanted to be with him."