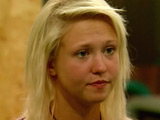 Sophie has bemoaned her portrayal as a "dippy blonde", arguing that no-one takes her seriously.
The glamour model was chatting to Siavash in the bathroom, speculating about whether they would be up for the public vote following the day's nominations.
She told him she was "physically scared" about leaving the house and getting booed.
When Siavash responded by telling her there was no need to be scared, she replied: "You've not had it your whole life. I've had it my whole life."
"I'm the fucking dumb one on this show," Sophie continued. "The 'dippy blonde', that's what they called me in the magazine."
She then berated the other housemates for suggesting that Siavash had influenced her nominations that week.
"People don't take me seriously, and it's really annoying!" she said, as Siavash sat in the bath.
Sophie then stated her belief that she would be evicted at the next opportunity, and that she wanted to go home.
"You'll be fine. Just chill out," Siavash replied.