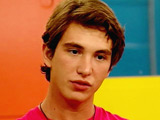 The housemates were engaged in a game of truth or dare that saw Rodrigo and Charlie kiss and Siavash brush his teeth with chilli.
Late last night, the remaining contestants sat around the living room table talking and chatting. Siavash suggested that they should play truth or dare and Sophie excitedly agreed.
Charlie was the first housemate to be subjected to the game and quickly chose dare. Siavash then challenged him to kiss Rodrigo for ten seconds.
While Rodrigo instantly said no, the group's goading eventually saw the couple kiss on the lips.
Siavash encouraged them to use tongues, but Rodrigo mumbled that he wouldn't, much to Sophie's disappointment.
David and Charlie then began daring Siavash before he insisted that he wanted to play truth or dare, not a game just called 'dare'. Charlie ignored him and ran off to produce a concoction that he was insistent for Siavash to drink.
David yelled that he wanted him to brush his teeth with chilli sauce for a minute and Charlie eagerly agreed.
Siavash then began brushing his teeth but after 20 seconds stopped to scream. Sophie and Charlie continued counting and Siavash proceeded to brush and scream in equal measure until the full 60 seconds were up.