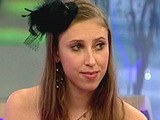 Sunshine has expressed concern to Mario this morning that housemates may still hold a grudge against her for suspecting that he was the secret mole.
She told Mario that even though she believed he had been given a secret task to sabotage the house, Caoimhe had told her that she shouldn't have accused him, and that she had really upset Mario.
"Don't worry, you didn't upset me," Mario told her.
Sunshine replied that she had told Caoimhe the previous night that, "I like Mario probably one of the most in the house, you don't need to tell me to be nice to Mario."
Mario reassured Sunshine that she had nothing to worry about from him, telling her: "You're my little sister in this house. I got your back."
She went on to say that it was annoying her that other housemates were telling her how to treat her friends, as Mario nodded in agreement.